Open-Access Education: Students Win When Schools Team Up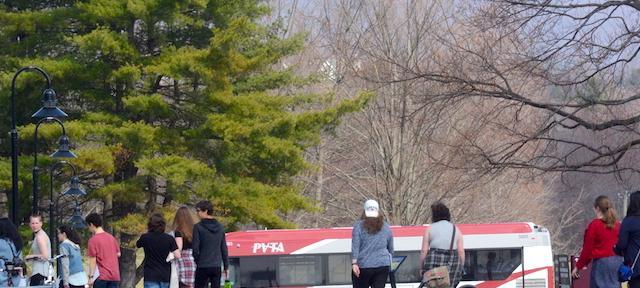 Most colleges compete for students, but for more than 50 years, Five Colleges in western Massachusetts have taken a different approach: to collaborate and partner, across public and private education. And the winners are students, educators, and the communities we serve.
In her final year at Hampshire College, Nicole DelRosso conducted most of her thesis research at nearby Smith College, under the direction of a committee of professors from both institutions. Her research was funded in part by a collaboration of colleges: Amherst, Hampshire, Mount Holyoke, and Smith.
I believe this collaborative model is one for education leaders to build on. Many complex challenges facing education today are amplified by extreme partisanship. More cooperation and collaboration would lead to more successful outcomes for schools and students.
DelRosso was leveraging resources throughout the Five College Consortium to carry out her research, on building a DNA circuit that can solve logic problems. After graduation, she published her research findings in an international, peer-reviewed journal as first author, with her Smith and Hampshire professors as coauthors — remarkable for an undergrad.
DelRosso wasn't done: With a Hampshire degree in hand, she applied through Smith College for a Fulbright, reflecting on the impact of her mentors at the multiple schools, and won an award. She has decided to continue her research at a Biophysics lab at the University of California, San Francisco.
The consortium unites unlikely partners: Two eminent women's colleges, Smith and Mount Holyoke; another top-ranked liberal arts school, Amherst College; one of the nation's largest public land-grant universities, UMass Amherst, with more than 30,000 students; and a college founded by those four institutions, Hampshire College, to pioneer more student-driven, project-based learning.
This radical partnership gives students unlimited options for personalizing their education, pursuing their interests, and broadening their possibilities for research and experimentation.
One of the remarkable decisions by Five Colleges leaders five decades ago was to allow students to freely cross-register for any course across the schools and to gain access to the full smorgasbord of academic offerings from now 2,200 faculty, with no money changing hands among the institutions. Today, students continue to cross-register at no charge by using a shared course-registration system. And they can take a free bus to any of the schools, between the towns of Amherst and South Hadley and the city of Northampton. And do they: the routes log almost a million free rides annually.
Every year, students demonstrate how valuable this is by taking thousands of classes at partner institutions, 4,653 cross-registrations in 2016-17. An Amherst College student registers at Smith for a specialized class such as sports economics or at UMass to study Latin American cinema. A Hampshire College student enrolls at Amherst for Introduction to Japanese or Arabic. A Mount Holyoke student rides the free bus to UMass for Web programming or to Smith for Discrete Mathematics. A Smith student travels to Hampshire for astrobiology or American Sign Language. A UMass student rides south to Mount Holyoke for planetary astronomy or to Amherst for a class on hip-hop.
Science is just one area of study that shows the strength of collaboration, and DelRosso's story is similar to those of other students throughout the colleges. Lan Phuong Nguyen Hoang's thesis research centered on superconducting nanowire single-photon detectors (SNSPDs), devices commonly used in vast-space data transfer, quantum computing, and astrophysics. Enrolled as a Hampshire undergrad, Phuong conducted research in conjunction with the Radio Frequency Nanoelectronics Group at UMass Amherst, as well as on a project on quantum dots with faculty at Mount Holyoke. She took classes at four of the colleges and was advised by a committee of professors from two colleges. She's now enrolled in a PhD program at the University of California San Diego.
For her thesis, Olivia Masi Biller formed a faculty committee of professors from Hampshire and UMass. She led a study of the immune system of bees, supported by a Five Colleges team at the UMass Crop and Animal Research and Education Center. Her work revealed that a balanced diet may be important for bees to strengthen their immune system; the nectar of certain flowers bolsters a bee's defense against parasites. Biller also published her research, as a lead author among her team of five faculty and grad students as coauthors, in the premier global scientific journal, PLOS One.
Each of these students led cutting-edge work that a single campus may not have been able to conceive of, let alone support. Partnerships among institutions can provide more unique, deeper learning, where a student ties together opportunities and disciplines to build an experience that is entirely new to everyone involved, including the faculty.
The possibilities become limitless. Consider the Five College Center for the Study of World Languages that offers classes in 50 less-common languages; when combined with the offerings of the five campuses, students can learn one or more of 70 languages.
For educators, the consortium provides a large community of thousands of scholars, resulting in joint appointments across campuses, hundreds of working committees, and collaborations on research, teaching, and professional development.  For administration, the consortium enables each school to find efficiencies in operations, business, and economics.
One of the founders of the Five College Consortium, Franklin Patterson, who served as Hampshire's first president, wrote in 1966 of an urgency for colleges and secondary schools to be integrated as a coherent, mutually interacting system. "The greatest actual need, for the welfare of the whole educational enterprise," he wrote, "is to establish and radically strengthen the cooperative association of diverse institutions."
That opportunity and need are as great now as ever.
Jonathan Lash, president of Hampshire, currently serves as president of the board of Five Colleges, Inc., which celebrated its 50th anniversary last year. 
 
1