Poet and Professor Polina Barskova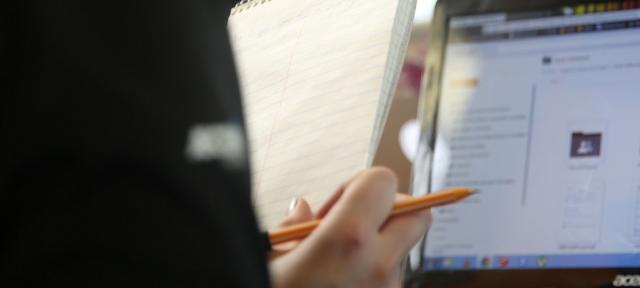 Even in a casual conversation the thoughts of Polina Barskova - who is widely recognized as one of the best Russian poets under the age of 40 - flow forth in image and metaphor.

As a child she was recognized as a prodigy. She began publishing poems in journals at age nine and, sought out by a publishing house, released the first of her six books at the ripe old age of 15.

She came to the United States at 20, in order to pursue graduate studies at the University of California, Berkeley, after having already completed a degree in classical literature at St. Petersburg State University.

Three years ago Dr. Barskova joined the faculty of Hampshire College as assistant professor of Russian literature. Her classes are packed and teaching reviews by students achieve similar soaring acclaim as critics' reviews of her writing. Under her influence students have formed the Hampshire Poetry Group, meeting monthly to read to each other.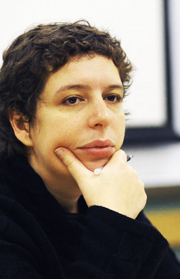 Student Kelly Wehrle 07F, who took the course Ways of the Russian Novel and is a member of the Hampshire Poetry Group, says Barskova "is absolutely devoted to her students and the material she is teaching. She wants students to be inspired and encourages them to speak up in class about their ideas as they occur to them. It's a very inspiring, creative atmosphere."
Barskova grew up in St. Petersburg, or Leningrad as the city was known from 1924 to 1990, where she experienced a cultural fabric she describes as interwoven with nostalgia, intimacy, and a fear of history.
St. Petersburg - "the home that I have left, the home that is absolutely impossible to leave" - remains present in her research and teaching. For a book project titled "Petersburg Besieged: Culture of the Aesthetic Opposition," she is researching, in her words, "people who lived in the strange, encapsulated space of their art in the Soviet years."
The city was "some kind of Atlantis for amazing intellectuals and writers. Most of my protagonists are completely unknown in the West," she says. "Many were killed."
Leningrad's history during the years 1941 to 1944 is particularly well known. The story symbolizes Nazi brutality on the Eastern Front, with thousands dying of starvation while the city was under siege. "It is an historical moment that everyone seems to know something about, but no one wants to go further," Barskova says. "The city has a history less known, a history less terrifying."
Last semester she taught a course on Mysteries of St. Petersburg. The literary city was explored using Dostoyevsky's work as a guide, as well as works by the authors who influenced him and those who were influenced by him.
"I didn't want to just move from
War and Peace
to
Anna Karenina
, but to show that the great Russian literature of the 19th and 20th centuries is relevant, that it is also about today and for today," she says.
Another course, The State of Poetry, draws on the professor's background as an undergraduate classics major as well as her own unique geographic and literary origins. Three historical contexts - imperial Rome, the romantic Europe of the Napoleonic era, and the totalitarian states of the 20th century - provide context for discussion of the poet's duty and resistance in relationship to the state.
When talking with colleagues from more traditional colleges, Barskova finds they are often surprised by the things she can do when teaching at Hampshire and by how she challenges her students.
"We use very difficult texts, very difficult films," she says. "People will say, 'Are you crazy' These are American kids of 18.' But they do get it. They have amazing curiosity. Hampshire students at their best see things differently. This is what makes it interesting for me."
Among books by Polina Barskova:
Christmas
(1991)
A Squeamish Race
(1993)
Memory
(1996)
TravelingMusicians
(2008)