Presidential Search Committee Interviews Executive Search Firms, Surveys Hampshire Community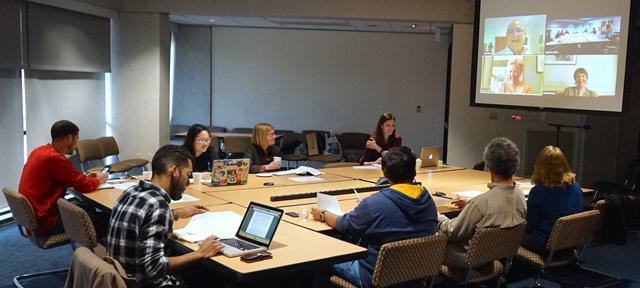 Hampshire's Presidential Search Committee — which comprises trustees, faculty, students, and staff — is interviewing several executive-search firms this month, toward naming one to assist in recruiting candidates qualified to be Hampshire's seventh president. The committee is also inviting input from the Hampshire community through direct appeals and a far-reaching survey, to guide its search for a president to succeed Jonathan Lash, who retires in 2018.
By culling self-nominations, the board of trustees formed the search committee in March, and announced that trustees Luis Hernandez and Carolyn Greenspan would serve as cochairs. In all, 17 members serve on the full committee.
The committee began its work soliciting input directly from faculty, staff, and students, as well as by asking alums and members of the broader Hampshire community to provide their views through a survey. It also called on 24 executive search firms to bid for the recruitment contract.
The committee has narrowed the field of search-firm applicants, and interviews began the first week of May.
The Presidential Search Committee is publishing reports of its work and a timeline of progress at https://www.hampshire.edu/offices/presidential-search. Members of the Hampshire community are welcome to provide input to the committee either by email trustees@hampshire.edu or by completing this online survey: https://hampshire.co1.qualtrics.com/jfe/form/SV_bBkCsnIcEGAZj4F
Jonathan Lash announced in February he will retire in June 2018, at age 72, after his seventh year in office. Lash has led Hampshire through a period marked by significant advances in its student-centered education, College access, diversity of the community, sustainability, philanthropy, and infrastructure. The College reported in February that during Lash's tenure, total scholarships and grants to students have increased 24 percent, and that the average student loan debt is the same as or lower than that of graduates of public universities in New England. Generous grants to Hampshire have helped established a scholarship fund for undocumented students and an emergency fund for high-need students. [Read the letters from Lash and Board Chair Gaye Hill.]
With Lash at the helm, Hampshire has increased the diversity of its student body, faculty, and board of trustees and recommitted itself to being an inclusive, intentionally antiracist community. Students of color now make up 28 percent of the community, an increase from 18 percent in 2010. Faculty of color comprise 27 percent (up from 18 percent; trustees of color, 31 percent (up from 13 percent).
Presidential Search Committee
Cochairs
Carolyn Greenspan, trustee and parent
Luis Hernandez 70F, trustee
Committee Members
Judy Bornstein 82F, trustee
Casey Chon 14F, student
Nirman Dave 15F, elected student trustee
Jaime Dávila, associate professor of computer science
Anne Downes, elected staff trustee and senior associate dean of advising
Steve Duffy, lead custodial supervisor
Linda Earle 70F, trustee
Jose Fuentes 05F, trustee
Gaye Hill, board chair and Hampshire parent
Lindsay Moon 15F, student
Annie Rogers, elected faculty trustee and professor of psychoanalysis and clinical psychology
Kim Saal 70F, trustee
Miguel Santiago, associate director of admissions
Chris Tinson, associate professor of Africana studies and history
Carol Varney 90F, elected alumni trustee
Committee Support
Joanna Olin, chief of staff and counsel
Beth Ward, secretary of the College