President's Spring 2020 Welcome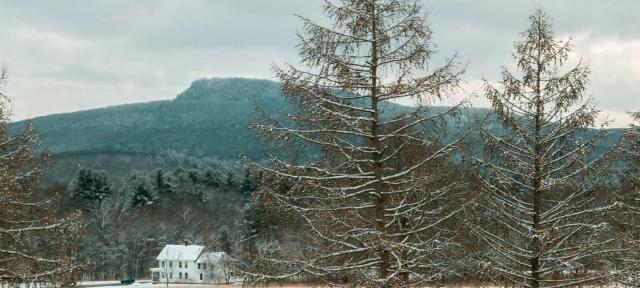 It's the start of our historic 50th anniversary year
Fifty years ago this month, Hampshire was building a new campus for our first class of 250 students and finalizing a radical new curriculum, abandoning prescribed majors and passive lectures and inviting students to actively lead their own learning, mentored by faculty. Today as we recruit students to our 50th anniversary class, we're again pioneering a new model for higher education with a bold, new student experience centered on complex themes and pressing questions of our time.

Transforming Curriculum
Our faculty and staff are building the structure for our new program, featuring opportunities to engage as a community in a range of curricular and co-curricular activities, around four themes: Environments and Change, Media and Technology, In/Justice, and Time and Narrative. One feature emerging for next year: students in Division I will devote part of their first year to engaging collaboratively in complex issues by theme, working with fellow students and a team of faculty and staff. Through this work, they'll more deeply develop skills that will guide them when they design their own Div II and III studies.
 
Our goal is to radically transform how undergraduates learn and prepare for a rapidly changing future, where pathways to meaningful careers will be in constant flux.  We'll challenge students to grapple with large, ambiguous questions from multiple, broad perspectives, and prepare them to use fluid, entrepreneurial approaches to deal with complexity and uncertainty.
 
By empowering our students to pursue questions they're most passionate about, many develop a love of learning that is absent from most education in this country. My favorite part of this job is hearing the excitement of our students as they describe the questions animating their study—their enthusiasm is invigorating, and I have learned something new in every conversation. I encourage every student to share your passion for Hampshire with your friends, loved ones, and beyond. If students would like to come meet with me to share your studies or discuss any topic or just say hello, I'm holding weekly office hours.
Fundraising Successes
I recently returned from San Francisco where we launched our major fundraising campaign with our West Coast community.  I met and spoke with more than 50 alums doing exciting work, from venture capital to technology, publishing to breweries. For me this was living confirmation of our 50-year legacy, in the lives of our graduates who are engaged in the most creative, entrepreneurial vocations.
 
Our campaign has now topped $12.7 million in cash and pledges toward our five-year $60 million goal that will secure a sustainable future for Hampshire. The vast majority of this funding goes directly to educating our students by supplementing annual operating expenses. Thanks to the work of our Advancement team, the college broke a December fundraising record and raised three times more than any previous December, a great sign for what's to come. Our community supporters are as committed to our success as all of us here on campus. 
New Students
Last Monday, I welcomed more than a dozen new and transfer students as members of our spring 2020 class—please join me in welcoming them to campus. In addition, 30 of our students have returned from field study, study abroad, exchange programs, and other off-campus activities last semester, and we welcome them back as well. I look forward to meeting them and hearing about their experiences.
 
If you know high school seniors who would thrive at Hampshire, encourage them to apply for fall admission this spring.
Our Advancement and Admissions teams are planning ways to welcome our admitted fall '20 students this spring, to help them see what we already know: no college is better suited for independent-minded, self-creating, intellectually excited people than Hampshire. We want them to come here, for their own sake and for ours.
Looking Toward the Future
In November, the New England Commission on Higher Education reviewed our five-year financial plan and affirmed our ongoing accreditation, and now we have significant work to do to reorganize the College and implement the plan. As we prepare our budget for next year, we're focused relentlessly on what serves the core of our mission: providing students extraordinary opportunities to pursue meaningful studies while never relinquishing the experimenting character that makes Hampshire unique. I'm grateful for the continued collaboration by our faculty and staff to find solutions for matching our budget to our revenues. A key element of our financial plan is our new student experience, which emerged through a collaborative community process to give us flexibility in how we operate. Our Board of Trustees will also be deeply engaged in this work when they meet on campus this week.
 
It's important we remember that Hampshire has many advantages—our distinct identity and mission, our national reach and reputation, our committed alum community, and our deep partnerships in the Five Colleges. Together, we'll continue to empower our students to draw on the best thinking, methods, and resources generated by humanity, as they blaze new trails of research, learning, and achievement, free of boundaries and limits. I want to thank each of you for what you contribute to this extraordinary community and wish you all the best as we begin spring semester.
 

— President
 Ed Wingenbach in a letter to campus
 
1