Professor Emerita Sandra Matthews Publishes Award-Winning Book on Indigenous Land and History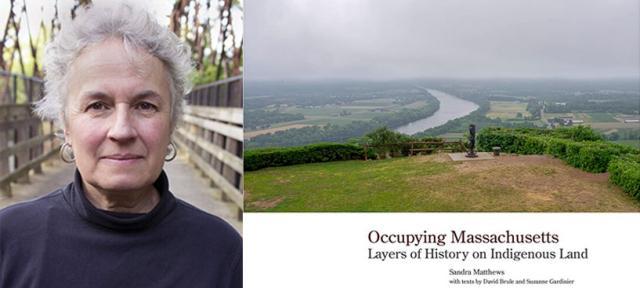 Associate Professor Emerita of Film and Photography Sandra Matthews recently published a collection of photography interwoven with text. The book received the Independent Publisher Book Award Gold Medal for Best Regional Book of Nonfiction in the U.S. Northeast.
Matthews's second photobook, Occupying Massachusetts: Layers of History on Indigenous Land, engages with history and memory. Her pictures of the Connecticut River Valley are of landscapes where Indigenous peoples once lived, and still live, as well as places where there is only a trace of their ever having been there.
Through images of signposts and sites, such as ancient structures and buried settlements, the work, Matthews says, "aims to draw attention to the presence of the past." By reviewing historical markers, she meditates on the widely varying language according to who placed the markers — colonists or Indigenous people — and how history changes and evolves based on who is doing the telling.
Matthews also captures vernacular structures built on Indigenous land, from which Native Peoples were displaced, often violently. More than providing any answers, her book raises questions about what it means to occupy land and call it one's home, how the stories of occupation are told, and how to deal with difficult and sometimes conflicting versions of histories.
The photographs are offset by texts by the poet Suzanne Gardinier and David Brule, president of the Nolumbeka Project, which works to discover and preserve early Indigenous sites in the Connecticut River Valley and to establish a bridge between our past and our future generations. Matthews and Brule have given a number of presentations, among them one for the Partnership of Historic Bostons.
Matthews's photographic work is represented in collections including the Smith College Art Museum; the Henry Art Gallery, Seattle; the Block Museum of Art, Chicago; the Fogg Art Museum, Harvard University; the Victoria and Albert Museum, London; and the Women in Photography International Archive, at Yale University. She is coauthor, with Laura Wexler, of Pregnant Pictures (Routledge, 2000), a cultural history of photographs of pregnant women in the United States.
Her first book, Present Moments, was published in 2020.
Matthews was the founding editor of the Trans-Asia Photography Review, an online scholarly journal published by Hampshire College between 2010 and 2020. Learn more at her website.
1