Professor Roosbelinda Cárdenas Wins Woodrow Wilson Fellowship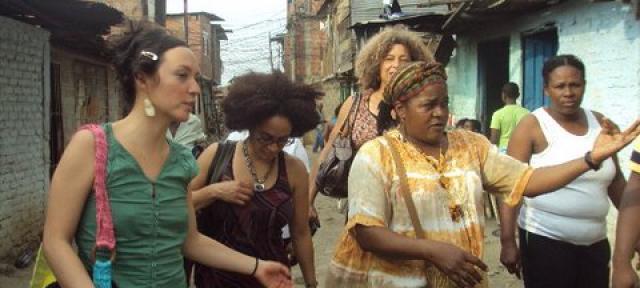 Although they comprise nearly a third of Colombia's population, Afro-Colombians hold sway little in their country; yet, they've fought for social and economic justice in the face of continuous adversity.
Their political mobilization fascinates Roosbelinda Cárdenas, assistant professor of anthropology and Latin American studies. Last spring, she was awarded a Career Enhancement Junior Faculty Fellowship from the Woodrow Wilson Foundation, funding that's enabled her to take leave this semester and work on her current book project, Raising Two Fists: Struggles for Black Citizenship in Multicultural Colombia. This fall, she's based at New York University, where she's affiliated with the Center for Latin American and Caribbean Studies as a visiting scholar.

"Black communities in Colombia endured a decades' long civil war and displacement from their biodiverse land by multinational corporations in mining, logging, and agro-industry," says Cárdenas, who came to Hampshire in 2014, after a postdoc at Rutgers Center for Race and Ethnicity. "They'd fought for and collectively won titles to their own land, the black territories, from the government. Then they were displaced by violent conflicts."

Raising Two Fists examines black political mobilization after the Colombian government granted black communities multicultural rights, which were almost immediately undermined by the intensification the nation's civil war in the late 1990s.

More broadly, Cárdenas is interested in identity and rights for Afro-descendants in Latin America, as well as social theories of race and racism, social movements, place and displacement, and human rights.

Born in and raised in Guadalajara, Mexico, Cárdenas says she grew up in an environment in which "Afro-descendants were "invisible." In fact, she says, "official data on the black population of Mexico was collected for the first time in an interim census in 2015."

Her interest in Afro-descendent populations was piqued after she came to the United States, where her understandings of race and experiences of racism shifted radically. After completing her undergraduate degree at Swarthmore College, Cárdenas moved to Latin America for several years, then returned to the United States to enter a master's program in Latin American Studies at the University of Texas, Austin. There, she worked with scholars on Afro-descendant land rights and went on to earn a Ph.D. in cultural anthropology from the University of California, Santa Cruz.

When she was writing her doctoral dissertation — the inception of Raising Two Fists — Cárdenas moved to Colombia to do research with two major black-rights organizations: Proceso de Comunidades Negras de Colombia (PCN) and the Association for Displaced Afro Colonials (AFRODES).

At Hampshire, she's been inspiring students to explore Latin American studies and has chaired several Div III projects, among them "Reimagining Revolution: The Zapatistas as a Decolonial Social Movement," created by Tristan Cullen 13F.

He credits Cárdenas with "giving me the confidence to feel I could succeed in an academic environment."

Cullen describes his Div III as an examination of the revolutionary Zapatista movement of southern Mexico using Latin American decolonial theory. After graduation, he went on a Hampshire trip to San Cristóbal de las Casas, Chiapas, the southernmost state in Mexico. There, he fell in love and now calls San Cristóbal home. He's currently applying to several graduate programs.

"I remember when I told Roos that I'd met someone here and decided to stay, she was extremely happy for me and told me she'd hoped something would happen that would take me on a new path," he says.

As Cárdenas completes her manuscript, she continues to travel back and forth to Colombia.

"In cultural anthropology," she says, "you usually imbed yourself someplace and do long-term fieldwork and participant observation. But since I started teaching at Hampshire, I travel to Colombia when I can and stay for as long as I can."

This spring, she'll be teaching Ethnographies of Latin America as well as a Div III seminar, Independent Work, Writing, and Research.
 
1