Soundin' Like Weself: Jacob Hochberger's radio documentary featured on Afropop Worldwide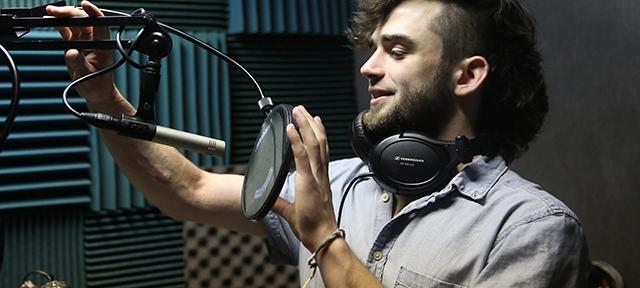 The half-hour radio documentary Soundin' Like Weself: The Trinidadian Rapso Tradition, produced last year by fourth-year student Jacob Hochberger 12F as his final Divisional III project, has been picked up by the internationally syndicated radio series Afropop Worldwide.
The documentary is the result of Hochberger's fall semester abroad in Trinidad, where he participated in Trinity College's Trinidad Program and took core courses in Caribbean civilization at the University of the West Indies. There, he interned at the Hott 93 radio station, which plays American pop mixed with local favorites such as soca and dancehall. "I had exposure to the music scene, with young producers and media creators pushing the bounds of popular music," says Hochberger, "and through them I came across rapso, which is more of a movement and a community."
Rapso is a form of rhythmic poetry that came out of the black power movement in the 1970s and '80s in Trinidad, says Hochberger. "For my Division III project, I made a thirty-minute radio documentary on the tradition, following the way it's evolved over the past few decades."
Professor of Cognitive Science Joanna Morris, who is from Trinidad, connected Hochberger with her sister Jaclyn, who introduced him to some of the rapso performers from the '90s and 2000s, among them 3Canal and Ataklan. Listen To Soundin' Like Weself Documentary here. 
On Hochberger's Div III faculty committee were Associate Professor of Music Becky Miller and Assistant Professor of African American Studies Chris Tinson.
"Becky helped me so much with the editing and scripting," says Hochberger. "She also helped me think of it as a public-radio piece that's marketable, while encouraging me to bring my own pop feel to it. Chris is so conscious and aware of how black bodies are represented in the media; he talked me through how to represent these artists in a way that didn't carry on embedded norms of abusing a culture." 
1