Student Receives $5,000 Award at Women's Entrepreneurship Competition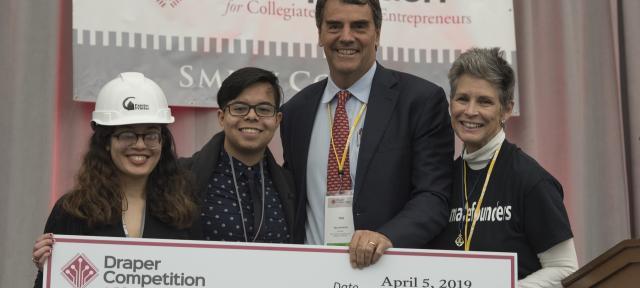 The competition, founded seven years ago by Smith alum Melissa Parker Draper and her husband, venture capitalist Tim Draper, addresses the large inequities that female entrepreneurs face when seeking funding for startup businesses. The competition has grown into a highly regarded event and, this year, 75 female-founded startups from more than 50 schools across the country participated.

Torres' company, Painter Printer, is developing robotic technology to perform the house painting process, aiming to provide professional quality results to both homeowners and contractors. "Think WALL-E the robot, but he's here to paint your house," she said. Along with business partner Joseph Mendoza, Torres secured a finalist slot at the event, pitched the business to a panel of judges that included the Drapers, and went on to receive the runner-up award in the Product Category. This is the team's second year participating in the competition. Last year, they won a $500 prize for the Painter Printer, demonstrating significant progress developing the concept.

"We're excited that we won, especially when it comes to this next phase of prototyping," Torres said. "Draper not only helped us financially but also increased our network, as we found some potential new members for our team at the event."

The Painter Printer team intends to invest their winnings into continued development of their prototype, and hope to complete their first working robot by the end of the year.
1