Student Use of Academic Services Doubles in Knowledge Commons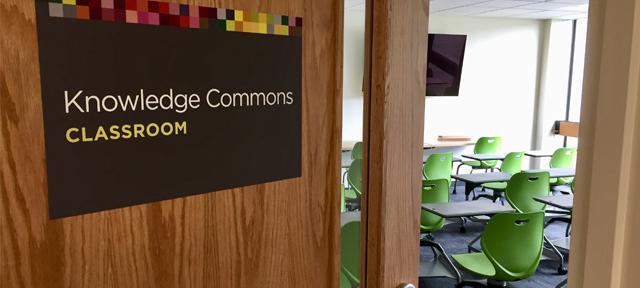 Student usage of academic services nearly doubled after Hampshire College centralized the services into Harold F. Johnson Library, in a large, newly renovated space starting this past September 2017. The concept behind the new Knowledge Commons was funded by a $1.2 million Andrew W. Mellon Foundation grant awarded to the library in December 2015.
The following areas, previously available in dispersed locations around campus, are now offering services in the new central library space:
Writing Center Help (supervised by the Writing Program)
Transformative Speaking
Library Research and Media
Quantitative Resource Center
Instructional Technology
Art Gallery student-exhibition support
Center for Teaching and Learning
Holistic Learning
This month, Inside Higher Ed reported on the initial results of the Knowledge Commons.
In summer 2017, the library appointed eight alumni fellows to help staff these resources. National Science Foundation data ranks Hampshire as the #6 college/university in the nation by the percentage of alumni who advance to earn a research doctorate in Librarianship and Communication: 6th/872, or top 0.7% (source: NSF Survey of Earned Doctorates).
Hampshire began experimenting with centralizing academic services in the library in 2013, when the Writing Center Help program started to hold hours there. Student writing consultations have since doubled.
This fall, seven more academic programs and services joined the Writing Center in the library, in the new Knowledge Commons, providing consultations both by appointment and during drop-in hours. Over the course of the fall semester, together they held 1,086 sessions with students.
The following chart shows the increase in consultations logged by five of the program areas:
| | | | | | |
| --- | --- | --- | --- | --- | --- |
| Academic Services: Student Consultations | Fall 2017 (one term) | 2016–17 (two terms) | 2015–16 (two terms) | 2014–15 (two terms) | 2013–14 (two terms) |
| Writing Center | 656 | 1,200 | 1,050 | 750 | 650 |
| Instructional Technology | 20 | 5 |   |   |   |
| Library Research Instruction | 38 | 21 |   |   |   |
| Transformative Speaking | 172 | 134 |      200 |   |   |
| Holistic Learning | 128 | 32 |   |   |   |
In addition to the Writing​ ​Center's "help-at-night" services, highly utilized by students was assistance from Transformative Speaking and from Holistic Learning.
Transformative Speaking met with 134 students through the academic year 2016–17; in fall 2017, from its new library location, the program met with almost twice that number in just one semester alone. The program develops skills for persuasive public speaking, civic discourse, and interpersonal communication
Holistic Learning hosted 32 sessions in 2016–17; that number quadrupled in fall 2017. The program develops skills in time management, organization, planning, and goal setting.
In the same period, Library Research sessions almost doubled.
Throughout the fall term, the Knowledge Commons also hosted a range of workshops, on a variety of topics, such as time management, project management, and group support for completing academic work during finals. Seventeen programs drew almost 200 students to participate.
The new team of alumni fellows, some full time and others part time, have joined writing fellows, under the auspices of the Writing Program, and Transformative Speaking Program peer mentors. The new fellows are coordinated and supported by Alana Kumbier, associate librarian for the Knowledge Commons and the humanities.
In summer 2017, the alumni fellows underwent more than a month of training and planning in advance of the opening of the space. They are developing, in their consultation practice, a holistic approach to academic support that responds to students' intellectual and social needs. At Hampshire, where students curate their education, the goals of the Knowledge Commons are for students to have more agency in accessing resources and to help them thrive.
Hampshire College is among the most innovative institutions of higher learning in the United States. Instead of offering majors, it challenges students to design their own programs of study and to recruit a faculty committee to advise them. The college uses narrative evaluations instead of grades, and has been described as a graduate-school model of undergraduate education. Hampshire was founded by its partners in the Five College Consortium —Amherst, Mount Holyoke, and Smith Colleges and UMass Amherst —to depart from a traditional liberal arts education.
REFERENCE
Read more about the fall opening of the Knowledge Commons
For more information, visit the Knowledge Commons website and the Knowledge Commons Blog.
1