The "Super 8 Filmmaking in Paris" Program Changed My Life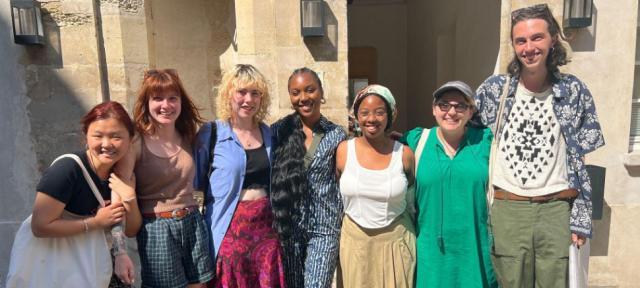 A student reflects on her inspiring summer experience studying filmmaking in France.
Professor Emerita of Film and Video Baba Hillman began teaching at Hampshire in 2001 and first taught the Hampshire filmmaking course Super 8 Filmmaking in Paris: Geographies of Identity in 2009. I was in her summer class in 2023.
I took this course because I wanted to improve as a cinematographer — a storyteller through imagery. The black and white film work allowed me (and past students) to strengthen the basics of lighting and shadow work, framing, camera angles, and blocking, which are essential for effective cinematography.
Even after 15 years teaching the same Paris course, Hillman's passion is evident; in every minute detail of the events that transpired — from her close advising work with each student on all aspects of their films, to the selection of diverse readings, films, and exhibits we experienced, to the more spontaneous explorations of festivals, food, and music across the 20 arrondissements, or neighborhoods, of Paris — it was clear that the schedule itself was an art form.
 
We attended multiple screenings across the city. One of my personal favorites was Hillman's recent film, Kitâb al-Isfâr: Book of the Journey. The film explores near-death experience and modes of perception and learning through the work of Arab Andalusian poet and philosopher Ibn 'Arabi. I was instantly aware of what a great honor it was to see. The raw vulnerability, lifelong teachings, and cinematography are just some of the reasons that I wish I could make it my yearly ritual to revisit this film.
 
During the course, we were visited by Hampshire alum Allison A. Waite 11F, who completed the Super 8 Filmmaking in Paris program in 2013. Waite went on to attend graduate school at the University of Southern California School of Cinematic Arts, win the Princess Grace award (among other prizes), and is currently working on a narrative film called Seed about a Senegalese boy in search of treasure. Having had the opportunity to speak with someone who felt like a window into ten years in the future as a result of our shared Hampshire experience was amazing. It was so great, I went on to interview her.
 
She shared how the course had motivated her to explore cross-continental filmmaking. "I was inspired to go international," Waite says. "I now mainly work in London and Kenya." She credited the film course for equipping her with the necessary skills for her resume. She even went on to shoot some Super-8 sequences for the show, Residue, on Netflix. "I was hired on the spot because of my experience on this course."
 
We discussed how she felt Hampshire's educational model prepared her for graduate school and all of her projects that followed. "Hampshire helped me find my story… and helped me gain both the clarity and specificity that I needed." Waite's a proud endorser of the timeless relevance of the Paris course, calling it a "safe space for artists; an incubator for any creative." I wholeheartedly agree with her. You can see excerpts of Waite's film, among others, on the program's website.
Finally, I asked for her advice to young filmmakers. "Find your niche," she says. "What do you want your stories to be about? What will people remember you for? That will open doors."
 
Talking to Waite and Hillman during this experience made me realize how much I had underestimated opportunities on the African continent. I came to Hampshire College after growing up in South Africa, partially because I thought that I could only become a world-renowned filmmaker if I made it into Hollywood (and I started with Hampshire because the College has amazing, award-winning film alumni). When I returned back home to South Africa after the summer course, I attended every film festival and workshop that I could. I gained so much knowledge and made so many networking connections in such a short period of time, that in many ways, I feel like my career has already begun.
 
I don't think I would have started looking for film-related opportunities in my hometown if I hadn't attended this course. It helped me to realize that in order to make impactful cinema, I don't have to work in Hollywood — that authentic storytelling from me can embrace my cross-continental nomadic tendencies.
 
Photo courtesy of the author, who stands third from right in a beige skirt.