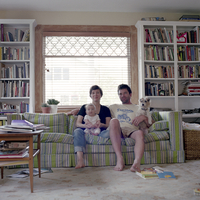 On New Year's Eve 2010, while composing a handwritten letter to a friend in Afghanistan and writing on Facebook to a friend in Jakarta (Sandeep Ray 88F), Tanja Hollander 90F started thinking seriously about the many forms friendship can take.
She thought about new definitions of the word friendship implied by the now-pervasive presence of social media, particularly Facebook, and began to analyze her list of "friends."
"What I found were some people I hadn't met in 'real life;' a few people I was not speaking to in 'real life;' ex-lovers with new partners; ex-partners of friends; art dealers and curators; and high school friends I hadn't seen in more than twenty years. I asked myself, 'Am I really friends with all these people?'"

Hollander set about exploring that question by incorporating it into her passion for photography and its intersection with travel. The result is Are You Really My Friend? The Facebook Portrait Project, which not only produced a renowned set of portraits, but has sent Hollander on a journey of unexpected depth and personal discovery as well.

"In the last year and a half, I've crowd-funded more than fifty-thousand dollars, completed almost two hundred portraits, photographed two hundred and fifty-four Facebook friends, and traveled to seventeen states and some seventy cities and towns across the country," Hollander says. "I've traveled by plane, train, boat, truck, trolley, subway, commuter rail, bus, car, bike, and on foot." Of the almost 200 portraits at this stage in the project, 33 are of Hampshire College alumni.

Hollander maintains a website, a blog, and, of course, a Facebook page documenting the project, each painstakingly tagged to showcase both its breadth and the organizational potential of social media. Although there are opportunities to view just the portraits, many of her trips are documented more fully, such as her visit with her "Div III mate" Miles Steuding 90F in San Francisco.

Most recently, Hollander was a featured speaker at TEDxDirigo, an independently organized TED event celebrating innovation and creativity in Maine.