Thinking Inside the Box: Collaboration, Experimentation, and Interdisciplinarity with Theatre Professor Peter Kallok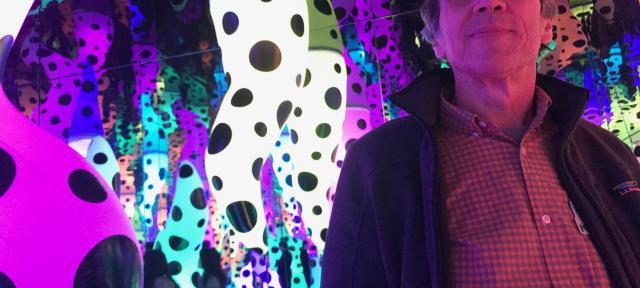 Peter Kallok, associate professor of theatre design, has worked in Hampshire's theatre program since 1994, and says he loves how student-driven it's always been.
"Few undergraduate theatre programs run like this," he says. "Most are fully managed by faculty and staff." Here, students participate in almost all decision-making: "They have a large voice in shaping our production season each year," he says. "They manage our performance spaces, and they also make budgetary decisions."
 
The model matches the College's academic experience, in which students create their own education with the support, rather than the mandates, of faculty advisors. "They're encouraged to collaborate, to find connections across disciplines, and to develop a confidence in learning," Kallok says. "Through advising, I'm constantly reminded that students can have many interests."
 
What he likes most about teaching Hampshire students is, he says, "their motivation and curiosity. They can be full of questions and don't expect immediate answers. They welcome the process of finding those answers themselves, and they contribute a multitude of experiences and points of view."
 
Kallok also appreciates the freedom to explore as a faculty member. He enjoys approaching his own discipline from different angles, co-teaching, and working with other professors to develop unique and interdisciplinary offerings for students. A recent example was a course called Designing Escape Rooms, which he taught with former game design professor Ira Fay. In it, students designed, built, managed, and ran an escape room inside the Emily Dickinson Studio Theatre.
The most successful, interesting and engaged Hampshire students have been tremendously motivated, ask questions, and do the work to find answers. They also take advantage of working independently as well as sharing with others. Peter Kallok
 
His regular courses focus on "design-driven performance." In the class by the same name,  students learn how to utilize disciplines within theatre design, such as lighting, sound, costumes, props, scenery, and projections, to create performances by themselves, without actors, directors, or playwrights. "Students learn how to present narratives or stories using just these elements," Kallok says. "I like this class because students discover the importance of the physical design in a performance."
 
His other favorite class is Light Art, a studio art–style course inspired by his work in lighting design and artists who work primarily with light, among them James Turrell and Dan Flavin. "It's a pleasure to introduce to students how light can be manipulated (color, intensity, reflection, refraction, and so on) to create work that," he says, "though not tangible, still evokes emotions, moods, feelings, visual stimulation/sensation. Students design and fabricate small installations, exploring personal statements or expression through light."
 
Kallok's students have presented an array of Div III projects: a performance centered on a giant dancing lightbulb; an outdoor promenade on the grounds of the Hampshire Farm; an ice and light sculpture; a runway-style story told exclusively through bodies and costumes; multifaceted audience-participation pieces; and elaborate shadow puppet productions.
 
His newest project outside of class is an experimental learning space, which began construction during summer 2022. Created for the State Department in Frankfurt, Germany, it's similar to an escape room, intended for group training purposes. "I've designed three connecting rooms that teams must work through collaboratively," he says. Indeed, like art mimicking life, Kallok's personal work mirrors much of what he enjoys about teaching and learning at Hampshire: asking questions, working through problems together, and finding creative solutions. 
Photo of Kallok with Yoyoi Kusama installation "Love is Calling" at ICA Boston
1