Three Hampshire Graduates Receive 2016-17 Fulbright Awards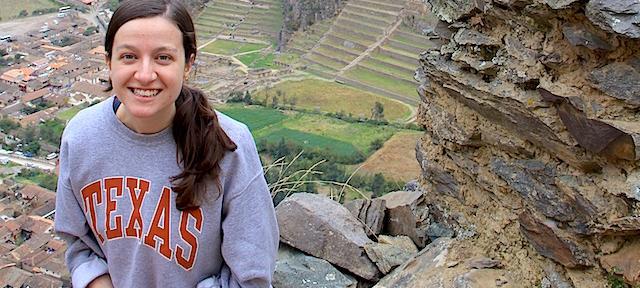 Three Hampshire graduates have received Fulbright grants from the US Department of State and the J. William Fulbright Foreign Scholarship Board, it was announced this spring. The awards to Eve Allen, Kristina Moss Gunnarsdóttir, and Leanna Pohevitz will enable them, respectively, to lead agricultural research in Peru, teach English language in Mexico plus organize workshops for artisans there, and teach English and perform linguistics research in Turkey.
They are among the more than 1,900 American citizens who will participate in the 2016–2017 Fulbright US Student Program, selected on the basis of academic and professional achievement, record of service, and leadership. This year marks the 70th anniversary of the program, which was established in 1946 under legislation introduced by Senator J. William Fulbright, of Arkansas. In the past five years, 12 Hampshire graduates have received Fulbright Awards, according to Carin Rank, director of Hampshire's Career Options Resource Center.

Eve Allen 14S, who graduated from Hampshire in May, will use her Fulbright in Peru to study the conservation of wild potato species through the lens of ethnobotany, how people in societies use plants. Beginning in August, she'll research the reasons why indigenous Quechua farmers tolerate wild potato species in and near their cultivated farm fields. Allen will look for hybridization, the crossing of two species, and natural gene flow between the cultivated and wild potato species, to understand if the movement of genetic material is a factor in producing climate adaptive traits, such as resistance to diseases or pests.

Allen's research will build on her Division III thesis at Hampshire, which incorporated a four-month internship in Italy at Bioversity International, a research organization dedicated to ensuring global food security by maintaining agricultural biodiversity. There, she worked on the Southern African Development Community Crop Wild Relative Project and helped partners identify and prioritize 115 crop wild relative plant species, that is, the wild relatives of the most socioeconomically important agricultural crops for countries in southern Africa. Allen then proposed that 11 of those wild species could be conserved by African farmers on small farms, as a way to conserve the genetic diversity of these valuable species.
Allen says she's been inspired through her academic work to help safeguard plant genetic diversity and cultural knowledge about crops and wild species, which she believes is imperative for ensuring long-term, sustainable global food security.  

Kristina Moss Gunnarsdóttir 08F, associate director of admissions at the College, received the Fulbright-García Robles Award. Starting in August, she'll be in Mexico where she'll work 20 hours per week performing English-language teaching and curriculum development alongside educators, and 20 hours per week organizing workshops for female artisans, focusing on skill-sharing, entrepreneurship, financial literacy, and educational access.

As a Hampshire student, Gunnarsdóttir had created an interdisciplinary major built around coursework in economics, sociology, history, politics, development studies, and Spanish. She also completed three years of study in Spanish language and a semester abroad in Havana, where she conducted an independent research project on public spaces in the development of the city. As an admissions counselor at Hampshire the past four years, one of her responsibilities was serving as a liaison to the James Baldwin Scholars Program. At the same time, she served as a volunteer English Language Learner instructor at the Jones Library, in Amherst, with the aim of developing economic and social mobility for her students through language acquisition.

Gunnarsdóttir sees her Fulbright grant as an opportunity to deepen her understanding of the complexity of language acquisition and the relationship between the US and Mexico. It will be a major step toward her career goal to advocate for education reform and increase educational access for immigrant youth, first-generation families, and English-language learners living in the United States.  

Leanna Pohevitz 08F received a Fulbright to work as an English teaching assistant in Turkey and will be based at Kastamonu University, near the Black Sea. She says she was inspired to pursue the award by her experiences at Hampshire, where her concentrations were in linguistics, philosophy, and political science. In college, she studied Arabic, Turkish, Farsi, and Spanish; had a semester of Hebrew; and took the Teaching English to Speakers of Other Languages (TESOL) class. During her studies she says she "fell in love with the complexity of Turkish society during a course in Istanbul." For her Division III thesis, she wrote a 483-page textbook to teach Arabic to English speakers. Pohevitz was voted by her classmates to serve as Commencement student speaker.

For the research component of her Fulbright, she will investigate the circumstances that influence Muslim families in rural parts of the nation to speak Turkish or Arabic, and whether that decision is affected by such factors as age and access to education.  

Pohevitz is currently completing her second year in the Peace Corps, in Morocco, as a community services volunteer, improving women's developmental skills by teaching at a women's center. There, she has taught English to hundreds of students, ages 4 to 83, and spent two years creating content-based English health curriculum, through which students learn English in the context of daily healthy habits and goal setting. Pohevitz says the program is extensive, and she believes it will be used in Morocco for many years. She is hoping to apply the many lessons from her Peace Corps and Fulbright experiences in a future career influencing US education policy.

The Fulbright U.S. Student Program is the flagship international educational exchange sponsored by the US government, designed to build relations across national boundaries and solve global challenges. For more information, visit the Fulbright program Website.
1