What We Did This Summer: Students Showcase Their Work in Immersive Summer Programs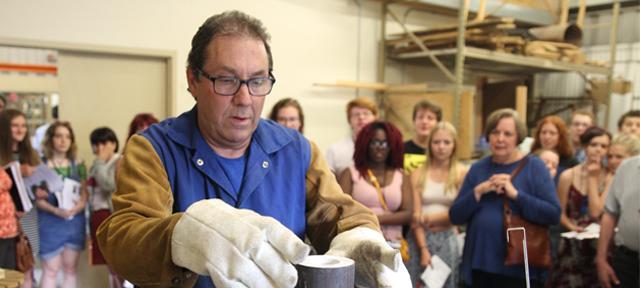 Hampshire's 2017 Summer Academic Programs drew dozens of students to campus from across the Northeast and beyond — they came from high schools, colleges, and grad schools as did young professionals — to participate in intensive summer versions of Hampshire's distinct academic programs, which are marked by learning through projects and experience.
The College organizes its summer programs as residential institutes or camps, says Director of Summer Academic Programs Meghan Cassidy, and many of the high school students and some from colleges enroll as an introduction to Hampshire before applying to be full-time undergraduates. 
This year, Hampshire introduced two precollege programs — Citizens United and Inside the Cell — and three college programs — the Institute for Linguistics, Image, and Text; Screenwriting for Film and Video; and the TESOL Teacher Training Institute. These were in addition to two returning precollege programs, Meet the World of Metalworking, co-taught for the second summer by Hampshire alum Emiliano Carrillo, and the Young Feminist Collaborative, as well as two returning college programs, the Institute for Transformative Social Justice and the Institute for Curatorial Practice.
Hampshire alum Jocelyn Edens co-taught Citizens United, a new interdisciplinary precollege course that explores 2010's Citizens United v. Federal Election Commission from multiple perspectives and disciplines. Students tackled questions about free speech and civic participation as they related to the case, which overturned previous regulations on corporate spending in U.S. elections. After studying the country's founding documents, students met with lawyers and activists who are continuing to fight against the decision. They then utilized what they learned to develop characters and deliver speeches advocating for a constitutional amendment to overturn Citizens United.
Edens says the course fills a void for high school students who are unable to take civics classes. "Hampshire's precollege summer courses make students ask really big questions and then mobilize them in some way," she says. "We're calling on students to do something they haven't done before, to start creating with the theory and ideas they learned here."
The TESOL program, led by alum Stephanie Brown, also encouraged students to put theory into practice, emphasizing professional development through teacher lesson planning, teacher observation, and interviewing ESL teachers. In addition to the portfolio-building materials the class offers, she says, students receive college credits and a TESOL certificate upon conclusion of the course.
Brown, who graduated in 2014, studied teaching English as a second language during her time at Hampshire. She teaches at several local colleges as she pursues an EdD in educational leadership.
"I crafted this course to be unique to Hampshire, combining linguistics and being a teacher and learner at the same time," she says. "All the students wore multiple hats — it was a great way for them to gain experience in the professional world. I tried to give them all the tools to be the best-trained teachers."  
Adeline Skovronek is an incoming first-year student who saw the TESOL program as a perfect way to familiarize herself with Hampshire. "I've been interested in foreign languages and teaching English as a foreign language for some time now," she says. "The TESOL program was a great way to introduce myself to the campus and a subject I plan on studying full time."
Second-year Hampshire student Kat Quinn appreciated the spirit of collaboration among those in the Screenwriting for Film and Video college program. "We really encouraged each other during the writing process, helped each other with what we were writing, and shared our interests and our passions about film," she says.
Visiting Assistant Professor of Video and Film Patricia Montoya taught Screenwriting for Film and Video, facilitating a collaborative environment for the writers to hone their craft and improve as screenwriters. Montoya invited guest speakers, among them Hampshire College professor Chris Perry, creative producer Andrew Hart, and screenwriter Susan Shilliday (Legends of the Fall) — to help inspire the young writers. The guests led the students to develop such skills as story structure and development, character development, and dialogue.
Both the college and precollege programs culminated in a day of presentations modeled after those for Hampshire's Division III projects. 
"People from across the Hampshire community attended the presentations and saw the depth of the students' projects," Cassidy says. "They left having achieved something, with tangible projects they can show to future employers and use to build their own portfolios."
1