Writing Comics About Monsters and God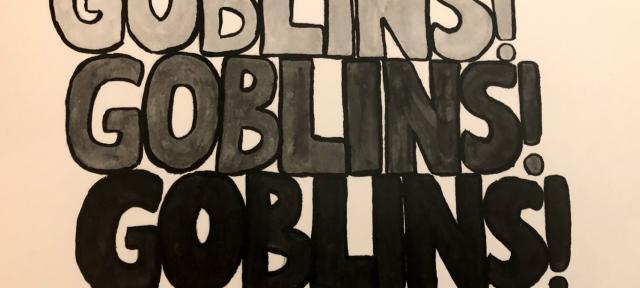 The first time Gabriel Horvath 14F felt a spiritual connection, something they could call "divine," was the first time they came out as transgender. Maybe, they thought, both things are connected. Maybe "being able to be out and to be called by my right name and my right pronouns by everyone around me meant that something in me could also open itself up to the presence of God."
So Horvath decided to write – and draw – what was in their mind. Based on their own experiences and studies of gender, sexuality, and religion, they produced the graphic novel And Then the Moon Touched My Face, part of their Division III project "Tender Creatures."

"It's an autobiographical comic about my relationship with faith and about walking and prayer as intertwined practices in my life," Horvath says.
In one of the passages, the protagonist is walking through downtown Washington, D.C., where Horvath grew up, on a Sunday night, passing by empty buildings that are all lit up, and trying to listen for God. "[The story] is a lot about this walking quietly and listening, which sometimes is a kind of silence that has a shape," they say.

According to Professor of English Literature and Cultural Studies Lise Sanders, the book gives readers an "insight into the experience of one's own identity and, particularly, the experience of being trans in a Christian community that was supportive and embracing of all kinds of forms of difference."

For their Div III, Horvath also produced Goblins! Goblins! Goblins!, a graphic novel about a group of small gay goblins who build a community of support and mutual care. "I was thinking about new vocabularies both visual and verbal for talking about mutual care dynamics in queer and trans communities," they say, "specially in communities where the majority of people are both queer and trans, which I haven't seen a lot in the broader media culture."

Professor Sanders describes the story as being about "characters whose bodily experience and identity is not defined through concepts of the human. And they're able to create a community of care and comfort and intimacy with one another in a way that's really compelling."

Sanders, who was part of Horvath's Div III committee, says the goblins raise interesting questions and alternatives to notions of the human. "These characters help us think in entirely new ways about gender," she says. Also, they help us rethink "the entire notion of monstrosity, which people who are different in many ways have often been labeled."

One of the most interesting things about Horvath's project, says Sanders, is "how deeply researched and theoretical it is even as a creative work. And I think that's characteristic of all the work that students do in the fine arts and in media production here at Hampshire, in part because our faculty hold this profound commitment to the relationship between theory and practice, essentially a praxis form of artmaking."

Gabriel Horvath graduated in December and is now living in Washington DC. You can find more of their work here.
 
1