The Five College Women's Studies Research Center
About
The Five College Women's Studies Research Center (FCWSRC) is a vibrant site of local, national, and international engaged, critical feminist scholarship, cultural production, and activism from diverse perspectives. Founded in 1991, the Center is located at Hampshire College following a move from its long-term home at Mount Holyoke College. The Center is supported by the Five College Consortium of Amherst, Hampshire, Mount Holyoke, and Smith Colleges and the University of Massachusetts Amherst.
The Center maintains an enduring emphasis on supporting knowledge exchange in emerging fields within feminist studies, addressing cross-cutting issues for feminist scholars within higher education, and supporting Five College faculty. The Center is a site for members of diverse feminist communities to present and discuss their work, coordinate reading groups, and host seminars, workshops, and conferences. Additionally, the Center hosts an annual cohort of local and international scholars and activists for three to eight months at Hampshire, providing office space, access to Five College resources, and cultivating a community in which feminist work can flourish through interdisciplinary conversations, writing accountability groups, and opportunities to share and receive feedback on work-in-progress.
Find up-to-date information on the Center—including the biographies and projects of current research associates, upcoming events, and ways to get involved.
Faculty, Staff, & Graduate Student Engagement & Opportunities
With an emphasis on emerging fields in women's, gender, and sexuality studies in all disciplines, the Center serves as a forum in which faculty, staff, and graduate students across the Five Colleges, visiting scholars at all ranks from around the world, and partner organizations can present their work. In addition to hosting presentations, faculty seminars, book salons, and work-in-progress sessions, the Center also carves out space for feminist feminist scholars across the Five Colleges to focus on their writing through weekly co-writing sessions, semesterly mini-writing retreats, and an annual multiple-day writing retreat.
Undergraduate Student Engagement & Opportunities
The Center engages with the work of Hampshire's Learning Collaboratives, having collaborated on a number of discussions, workshops, and presentations, and also participates in Hampshire's annual ENGAGE! Conference. There are also opportunities for undergraduates to engage in the life of the Center through summer internships.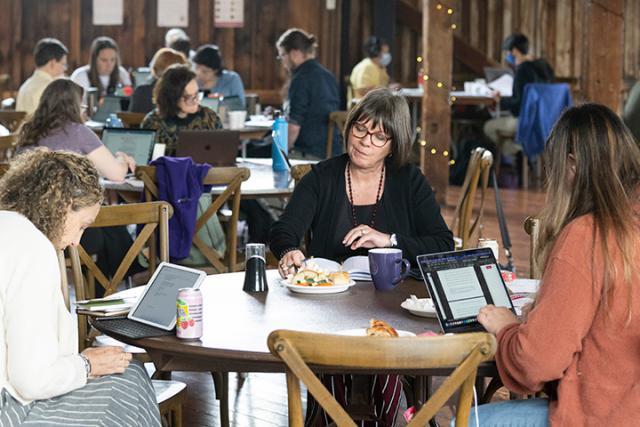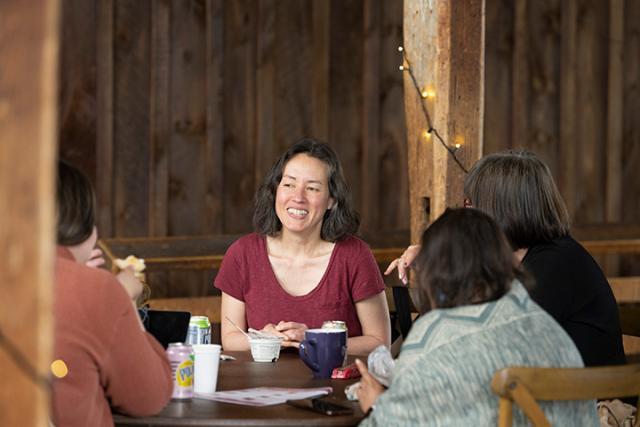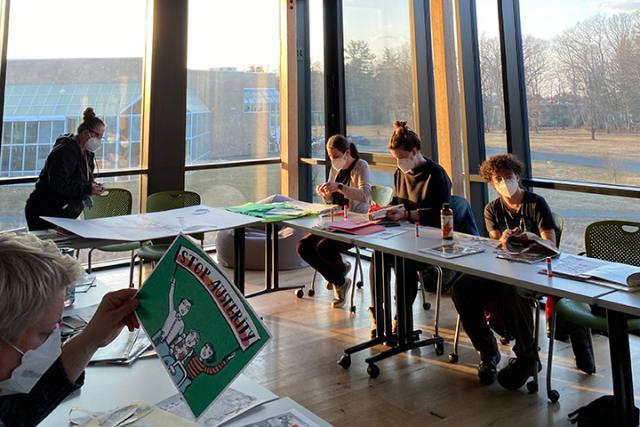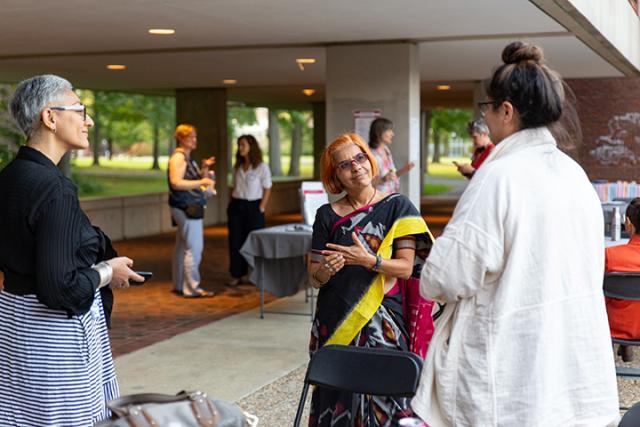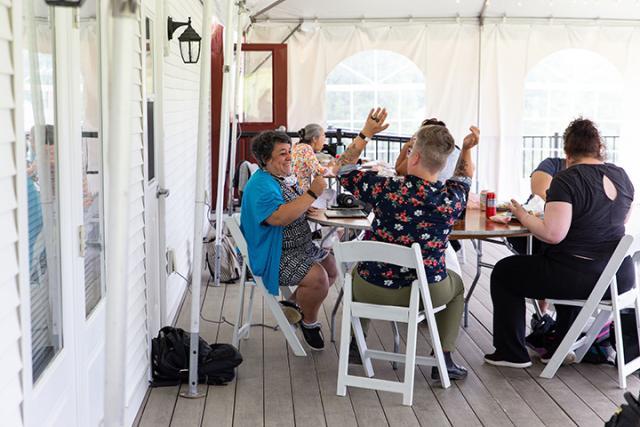 Banner image: Two 2022-23 research associates going for a walk around the Hampshire campus.