Environments and Change Learning Collaborative
How should we act on our responsibilities in the face of the changing climate?
Inside our Environments and Change Learning Collaborative, you'll dig into the challenge of creating a just future in the face of climate change while living a sustainable life.
You'll study how we can care for each other and our planet, explore how we adapt, and examine how we define a sense of home and embody our place in the world. 
In addition to courses, Environments and Change organizes and facilitates formal events, informal gatherings, trainings, informal/drop-in opportunities, and more in order to promote student/staff/faculty collaborations.
The Learning Collaborative in Action
Coursework
In a course called How to Address Climate Change, a team of faculty and staff members from diverse fields, such as applied design, animal behavior, African American arts, creative writing, and athletics, came together around a key question: why haven't governments and societies acted as decisively to confront climate change, and what positive action can be taken at the country, society or even individual level to create more sustainable lives?
The course showcased how thinking across academic disciplines influences modes of thinking and learning. Participants conducted brainstorming, hands-on design and fabrication work, reading, researching, communication, dialogue, and restorative practices. Course participants also investigated the implications of environmental and climate change in relationship to privilege, accessibility, and race. Students and instructors grappled with how to communicate across differing beliefs and difficult topics; how artists, writers, and poets can engage not only climate justice but racial justice as well; and how applied design can help us create accessible tools.
A tour of two local sustainable sites was part of the experience: our campus' Living Building, the R.W. Kern Center, and Astarte Farm, a local farm that practices regenerative agriculture and "no-till" farming for soil health and carbon sequestration.    
Projects
Monitoring Greywater Quality at the Kern Center
Claire Shillington 15F
Shillington's Division II project focused on human health and the environmental sciences. As she advanced in her coursework, she identified water as the element that holds these areas of study together, and, with the support of Professor of Hydrology Chris Cianfrani, developed a project to study gray-water treatment system in the R.W. Kern Center and report on its effectiveness. Shillington's coursework included biology, chemistry, microbiology, hydrology, statistics, calculus, and epidemiology, and the supported project allowed Shillington to use the skills developed in conceiving, designing and implementing the project.
Bio-Charcoal Kiln/ Designing a Regenerative Landscape for the Kern Orchard
Arlo Zwicker 20F
Zwicker's work mostly focuses on permaculture design through a systems design approach—learning from nature and applying that knowledge to the way in which both ecological landscapes and some social systems are designed. One of their projects involved making a bio-charcoal kiln to be in the community garden, as it both increases the fertility of the soil and is a method of sequestering atmospheric carbon. Zwicker's coursework included applied design, entrepreneurial studies, and fabrication.
In addition, Zwicker is studying the small apple orchard outside of the Kern Center, hoping to expand it to take up the whole field, create a polyculture of trees, and add layers to the system so that more plants can grow in the space. They are considering the potential of interplanting fruit trees with nitrogen-fixing trees to avoid the need to import any fertilizers from outside of the system into it.
Community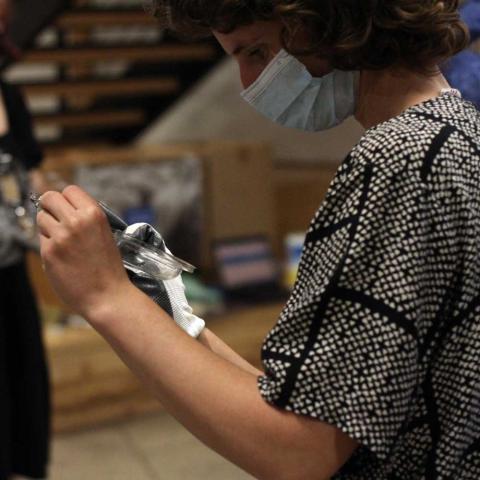 In November 2022, the LC undertook a waste audit in the Kern Center. Led by Professor of Critical Social Thought Ethan Tupelo and alum Sara Brown 14F, students sorted through bags of trash, compost, and recycling from nearby bins. Others participated in a community discussion about campus waste, sharing their experiences in the dining halls, in mods, and across campus.
The big takeaway: getting the right waste in the right place is hard!
Though 40% of the sorted waste was compostable (food waste and bioplastic), and 31% recyclable (paper, plastic, and cardboard), significant contamination across waste streams meant that without proper sorting, much of the waste would go straight to landfill. The biggest contamination culprits were bioplastics in the recycling bins, plastic in the compost bins, and food waste in the trash. Attendees discussed ways to simplify composting and recycling streams to increase the successful diversion of food waste and recyclables. This data and community input will help guide ongoing efforts by Facilities, Dining, and others to help Hampshire significantly reduce its waste and carbon impact.
Request Information
You have questions. We have answers. We've seen what can happen when you're the entrepreneur of your own education. Request a viewbook and see for yourself.