In/Justice Learning Collaborative
How can we disrupt and dismantle white supremacy?
You'll take a critical look at racism, classism, and other forms of systemic oppression within the In/Justice Learning Collaborative. You'll explore how to make anti-racist practices a part of our everyday lives, actions, and decisions. You'll examine the future of reproductive justice and ponder the issue of who or what has rights. And you'll take a deep look at restorative justice for local and global communities.
The Justice/Injustice Learning Collaborative (LC) is a educational community dedicated to addressing how we (as a campus, within our disciplines, and in our broader society) should act on our responsibility to disrupt and dismantle white supremacy.
We do this by strengthening our relationships with one another as co-collaborators, by exploring a wide variety of perspectives and points of view, especially those that we may not hold close. We also seek to understand the common themes as threads running through all systems of oppression while also recognizing the unique context of each individually. Finally, we seek to enact change by constantly examining our own positionality and how that is impacted by and impacts others.
Our LC should provide space for intellectual exchange, community building, fun, engaged learning, and action. We can create this through formal events, group advising, course/faculty collaboration, informal/drop-in opportunities, field trips, and more.
The Learning Collaborative in Action
Coursework
First-year students and faculty came together in the seminar Whiteness led by Associate Professor of Critical Race, Gender and Media Studies Susana Loza and Co-Dean of Institutional Diversity and Inclusion and Associate Professor of Anthropology and Latin American Studies Roosbelinda Cardenas. The seminar examined historical and contemporary constructions of whiteness and its consequences in various areas of social and political life.
Community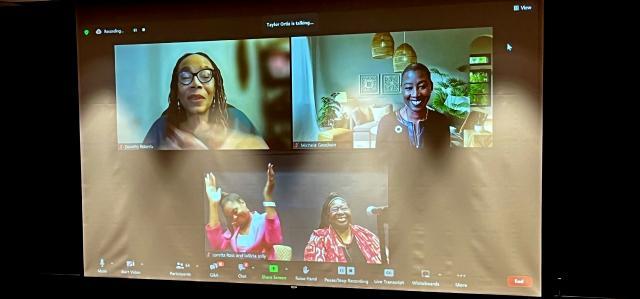 In October 2022, Hampshire hosted the 23rd annual Eqbal Ahmad Lecture, titled "The State We Are In: Building an Intersectional Movement for Reproductive Justice." In the spirit of the series, guests took on a timely topic with wide-ranging cultural implications: this time, abortion rights, especially in the context of women of color. Black feminist scholar-activists Dorothy Roberts and Michele Goodwin, who were remote, addressed questions from the Black feminist reproductive-justice educator Loretta J. Ross and Amherst College Professor Jallicia Jolly, who teaches Black studies and American studies and moderated from the hall. Their conversation was about not only the immediate subject at hand—including the recent Dobbs decision overturning Roe v. Wade—but also many related racial, economic, and social issues. Read more and watch the lecture.