Media and Technology Learning Collaborative
How do we decide what constitutes truth in a "post-truth" era?
How do technologies shape our relationships to the world? Tools, books, computers, videos, and gene-editing techniques are just a few of the influences that have radically changed the way we live. Inside the Media and Technology Learning Collaborative, you'll study the ways in which media and technology act as agents of positive change, and question how to address the ethical, political, social, and economic problems they pose.
The Media and Technology Learning Collaborative (LC) is dedicated to addressing how we actively participate in the creation, documentation, dissemination, consumption, and critique of information. Our LC is a space for community-building, humor, engaged learning, mutual support, and action.
For the academic year, 2022–23, we are exploring how we come to know what we do (about ourselves, others, and the world), the varied forms "information" takes, the ways it can be manipulated, what the costs of mis/disinformation are to our lived experiences, and how we can discover and share "truth."
In addition to courses, Media and Technology organizes and facilitates formal events, informal gatherings, trainings, informal/drop-in opportunities, and more in order to promote student/staff/faculty collaborations.
The Learning Collaborative in Action
Coursework
The classes Birds Aren't Real: Critical Disinformation Studies taught by Associate Professor of Media Studies Vivica Greene and Ivermectin: (Mis)truth and Consequences taught by Assistant Professor of Molecular Biology John Castorino joined forces to discuss and critique Plandemic, a 26-minute film released online in the early months of the COVID-19 pandemic that was shared widely and rapidly across major social media platforms. Although the film presents itself as a documentary, its producers sought to spread disinformation and conspiracy theories to discredit scientific experts. Prior to the joint class meeting, students viewed the film and read articles discussing Plandemic's scientific claims as well as its viral spread. Together, students in the two classes critiqued the film from various perspectives (rhetorical, aesthetic, and scientific) and its significance with regard to seeking truth in a post-truth world.
Community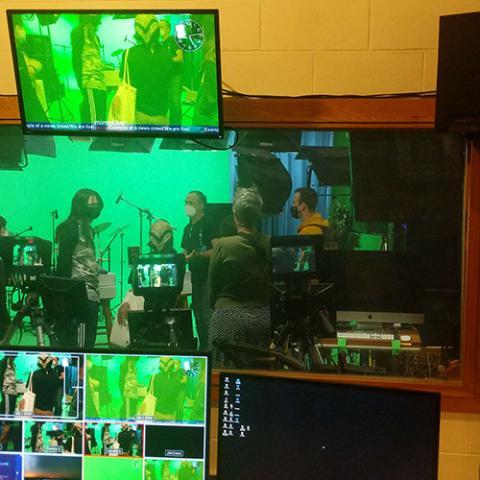 Media and Technology kicked off the fall 2022 semester by hosting a meet and greet in the R.W. Kern Center lobby, followed by a tour of some of the tech facilities and resources on campus. It was a chance for affiliated staff and faculty to introduce themselves and their relationships to the LC. Most importantly, it was a chance for students to introduce themselves and share their interests and vision for the LC. The interests of the group represent a wide spectrum of domains and specialties ranging anywhere from creative writing and cognitive development to interactive design to economic policy to political phenomenology. Later the group toured the Library Media Labs, guided by Advanced Media Coordinator John Bruner, and the Center for Design, guided by Facility Coordinator Mary Kate Cleary.
Request Information
You have questions. We have answers. We've seen what can happen when you're the entrepreneur of your own education. Request a viewbook and see for yourself.