Time and Narrative Learning Collaborative
How can art and creative practice engage trauma?
Study how we author time, mark time, and measure space and time within the Time and Narrative Collaborative. You'll consider how the multimillion-year history of the earth affects how we think about human evolution, history, knowledge, and the future. You'll examine who decides whose memories matter. And you'll explore what lies ahead, and how to plan for and reimagine a different world.
The Time and Narrative Learning Collaborative (LC) is committed to engaging critically with their question. Through conversation and creative work, this LC is asking how their question translates across cultures and communities, about what it means to "engage" trauma, and about the role of the arts and creative practice within culture and politics. In doing so, they seek to consider both the possibilities and the dangers or challenges that this question evokes.
In addition to courses, Time and Narrative organizes and facilitates formal events, informal gatherings, trainings, informal/drop-in opportunities, and more in order to promote student/staff/faculty collaborations.
The Learning Collaborative in Action
Coursework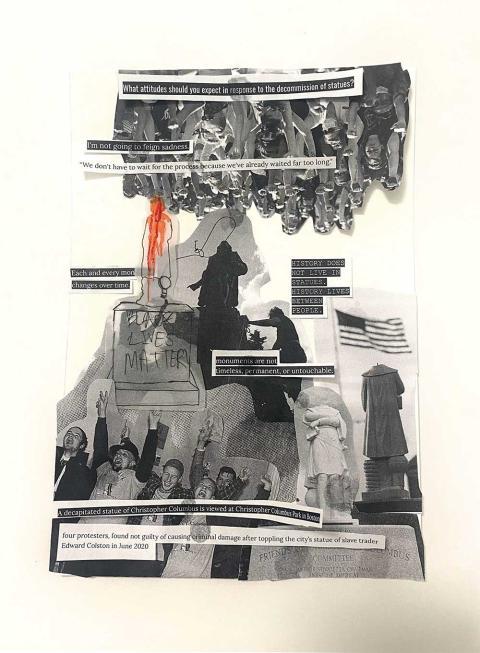 In the course Commemorating Violence: Monuments, Museum Practice, and Public Art taught by Associate Professor of Comparative Literature and Visual Studies Jennifer Bajorek, students explored contemporary approaches to commemorating historical violence in public space and culture. The class examined case studies from around the world, with a focus on sites of contestation and interventions in public and collective discourse from the last 50 years. These included Holocaust memorials and museums; monuments to los Desaparecidos (the disappeared) in Argentina, as well as victims of the genocides in Rwanda; #RhodesMustFall and other "fallist" movements to remove statues celebrating slavery, apartheid, and white supremacy; the public visual culture of #BLM; new monuments to the legacies of the transatlantic slave trade in diverse sites. 
The course hosted a conversation with Sandra Matthews, artist, photographer, and professor emerita of photography, and David Brule, Indigenous activist and president of the Nolumbeka Project. The two talked about questions of Indigenous history, memory, and commemoration; their collaboration; and Sandra's new photo book, Occupying Massachusetts: Layers of History on Indigenous Land. 
Community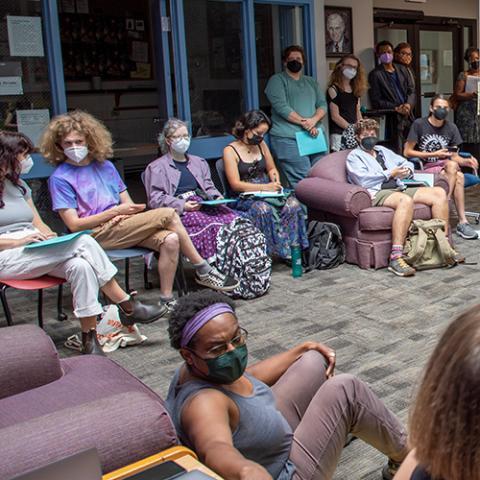 Staff psychologist, Avy Skolnik—whose academic and pre-Hampshire work centers on microaggressions in healthcare and PTSD—presented clinical perspectives of defining and engaging trauma. Avy reminded us that while rigid diagnoses and categorization can be validating and useful from a treatment and measurement perspective, it is impossible to fully capture the complexity of an individual's cognitive experience with broad labels. He engaged us in a lively discussion of fear's relationship to trauma, the nuances of trigger warnings, when it can be positive to confront your triggers, and the ways guilt and shame can self-traumatize.
Request Information
You have questions. We have answers. We've seen what can happen when you're the entrepreneur of your own education. Request a viewbook and see for yourself.