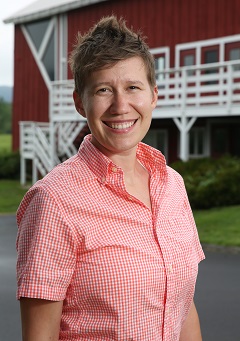 Christina Rizleris
Associate Director of Admissions and Coordinator of International Recruitment
Email: crAD@hampshire.edu
Territories: International, Oregon, Washington, Kentucky, South Carolina, South Dakota
Degree: B.A., Environmental Studies and Marine Science concentration, Eckerd College
Why I love Hampshire: Because I came from another CTCL school, Hampshire College struck my fancy because of the unique educational program here. Every day I learn something new and my mind is just blown away at the students and their academic studies! I love that people can be themselves here; I love that we have our very own ORGANIC farm and that you won't find "sheep" as students. Our students pave their own ways and do really cool things to contribute positive things to the world.
Best College Admissions Advice: Be yourself! Be open to new experiences and really take your time in the search. Find the right fit for you and soak up every moment in the process. It's OK to be different, and it's OK to cross some colleges off your list.
Favorite travel moments: Looking at the moon from 40 feet below sea level, watching the sunset in the Serengeti, spontaneously eating vegan cake with nuns for one of their 90th birthdays in Worcester, MA, getting stuck in a muddy cliff in Aabenraa, DK.
Fun Fact about me: I haven't owned a television since I was 16.
What I want to accomplish in the next few years: I want to build a tiny home that leaves a small carbon footprint!
In my free time I like to...play outside, attend poetry open-mic nights. strum my guitar, explore the Pioneer Valley, since I'm new around here, and visit cool cafes.