You are here
Success after Hampshire
Hampshire's interdisciplinary and collaborative approach to education produces remarkable results.
Hampshire's pedagogy develops each student's ability to question, research, analyze, write, negotiate, and undertake substantial independent projects, competencies that graduate schools and employers seek in their ideal candidates.

The Association of American Colleges and Universities chose Hampshire as one of 16 national "leadership institutions." Hampshire was recognized for "visionary campus-wide innovations in undergraduate education," and as a model of best practices for its emphasis on critical thinking about complex problems, for effective communication, and for meaningful contributions to a diverse society.

Ideas into Action


For the class of 2014, 100% of students completed at least two community engaged learning activities (CEL-1 and CEL-2) , which involve combining formal classroom study of a particular issue with direct real-world exposure to that issue in a community setting. 

93%

of students completed at least one internship, research assistantship, or similar activity.

70%

of students completed two or more before their graduation.

Alumni Survey Results


The College invited 8,160 alums to fill out an online questionnaire administered by the campus's Alumni and Family Relations and Institutional Research offices. A total of 1,920 surveys were completed, yielding a response rate of 24%. The percentages in the data below are based on the number of responses received for each question.

 

65% of our alumni earn advanced degrees within ten years of graduating.

1 in 7 alumni holds a Ph.D. or other terminal degree.

Hampshire ranks in the top 1% of colleges nationwide in the % of grads that go on to earn doctorates.

26% of our graduates have started their own business or organization.
---
"Over the course of your Hampshire education, in which of these areas did you make the most significant progress?"

Transformational or significant growth
---
| | | |
| --- | --- | --- |
| "Do you feel that your Hampshire education has shaped or prepared you differently from your current peers?" | | "Please briefly explain how Hampshire has shaped/prepared you differently." |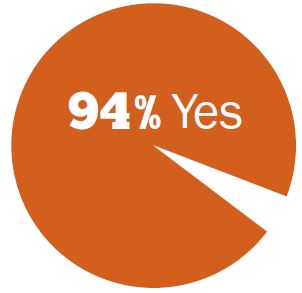 "
I feel that my approach to solving problems and studying situations is a lot more comprehensive and I tend to be more confident than many of my peers in my ability to learn new things and find solutions.
Hampshire demanded a proactive approach to learning and instilled a greater sense of personal responsibility for one's education.
Community, inquiry, justice, and innovation are built into my life in a real way.
"
Graduate School

Graduates find the narrative evaluations in their transcripts to be an asset when applying to graduate school or seeking employment. They provide admissions and hiring committees with a more complete picture of each applicant. Hampshire students find that their ability to create self-initiated independent work is valued highly by graduate programs. By graduation, many students have already completed graduate level work during the execution of their Division III senior thesis project.
Top 50
for Ph.D.s in science and engineering according to a National Science Foundation report

Top 1%
Hampshire is in the top percentage of all colleges and universities in the nation whose graduates go on to earn doctorates

65%
of our alumni reported earning an advanced degree within ten years of graduation

Max Holdhusen 08F

"I felt completely prepared for graduate school. Nothing has been able to match the creativity and intensity of my Hampshire education."

M.S. student at the Graduate School of Architecture, Planning and Preservation at Columbia University

Graduate Institutions Most Frequently Attended




Columbia University
University of Massachusetts/Amherst
New York University
Harvard University
Yale University
Boston University
University of California/Berkeley
Cornell University
Smith College
University of California/Los Angeles
University of Pennsylvania
Massachusetts Institute of Technology
Northeastern University

 
Employment

The skills and experiences Hampshire graduates acquire from negotiating their education with a faculty committee, initiating projects, formulating solid proposals, and engaging in internships, translate into the ability to seek careers in areas that reflect their passions. Employers love Hampshire graduates because they know how to work well with others, take initiative, self-directed, solve problems, communicate well, and take risks.
1 in 4
alums start a business, organization or non profit

500
companies recruit for jobs and internships each year

89%
reported receiving a job offer within one year of graduation

 

Spotlight on Entrepreneurship

Top 20

Hampshire is among the top 20 colleges for entrepreneurs, according to a list published by Forbes. The list was compiled from LinkedIn data on college graduates, identifying the top 20 schools with founders of the most companies with 10 or more employees. Businesses founded by Hampshire alums tend to incorporate key Hampshire values including creativity, sustainable practices, and social responsibility.

Seed Fund for Entrepreneurship and Innovation

In the spring of 2013, graduating international student Zilong Wang brought his Division III thesis to Hampshire's president Jonathan Lash, a proposal for the creation of an entrepreneurship center at Hampshire. In response to Zilong's project, Michael Vlock, a 1975 Hampshire graduate, donated $1 million to establish the Seed Fund for Entrepreneurship and Innovation. This student-centered fund fits Hampshire's academic approach. It's based in creative thinking, provides hands-on learning opportunities, and enables young entrepreneurs and innovators to turn their ideas into action. Mr. Vlock firmly believes in Hampshire's distinctive academic philosophy noting, "No students are more entrepreneurial than those who are naturally independent thinkers, and Hampshire has always attracted that kind of person."

Apply online via
THE HAMPSHIRE APPLICATION »
Custom Ads
---
Colleges that Change Lives
Hampshire College is a member of Colleges that Change Lives, a non-profit organization dedicated to the advancement and support of a student-centered college search process.

"There are two reasons why Hampshire graduates achieve so much. One is the kind of person the college attracts. The other is what the college does for them by equipping them to become their own wide-ranging explorers and connection-seekers." —Loren Pope, Colleges that Change Lives (2006)