As an alum, you are able to use the RCC Multisport Center (a $240 annual value; court fees not included), and the Harold F. Johnson Library once you have obtained your alumni ID card. Simply follow this process:

1. Send an email request to alumni@hampshire.edu containing the following:
Your full name, class year, preferred email address, phone number, and mailing address.
A current picture of yourself that will appear on your alumni ID. Please follow the OneCard photo submission guidelines located below these instructions. Attach the photo to your email. Please do not embed it in the email text.
Proof of current health insurance coverage (photo of your ID card, billing statement, etc.)
2. Check your inbox for an email indicating confirmation of your request and an expected time when your card can be picked up from Alumni and Family Relations. The process for issuance of your card takes approximately five working days.

3. Call Alumni and Family Relations at 413.559.6638 to set up a time to pick up your card. You will be required to sign a waiver form to receive your card and, at that time, show a current photo ID (driver's license, passport, etc.)
You must renew your card at the start of each new semester. Stop by Alumni and Family Relations to show a current photo ID and proof of health insurance. Your same alumni ID card will be reactivated at that time. If you lose your card, you can order a replacement card for $25.
Photo Composition Requirements
We urge you to read and follow these requirements in order to avoid delays. ID photo submissions not meeting the composition requirements will not be accepted.

Make sure the photo is in color (no black and white) and contains your full head, from top of hair to bottom of chin. You should be the only subject in the photograph: no pets, objects, or other people, please. Your hands, feet, etc., should not appear in the image. You must be photographed against a plain single-color background (preferably white or blue). Lighting must be such that your facial features are clearly visible.

You must be facing front and shoulders must be square on to the camera. Looking over one shoulder is not acceptable. Headwear, except for religious reasons, is also not permitted. Only prescription eyewear is permitted, and it must not obstruct any portion of your face or eyes. Facial expressions should be neutral or smiling: no frowning, grimacing, wide-open mouths, or silly faces, please.
ID Picture Do and Don't Examples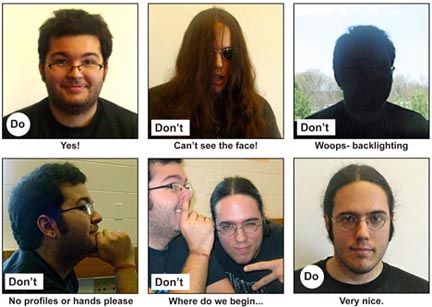 Technical Requirements
There are many common mistakes made with electronic submissions that render them unacceptable despite meeting composition guidelines. The most common mistakes include resizing an image to meet the size requirements without maintaining the correct aspect ratio, enlarging an image of insufficient resolution so that the resulting image quality is poor, and incorrect formatting of images (e.g. use of gif, tiff, pcx formats, etc.).

In order for your picture to be accepted, your photo must be "portrait" orientation (taller than it is wide), and at least 400 pixels by 400 pixels. If scanning, please set the resolution to 300 dpi. It must be in JPEG format and must meet the composition requirements described in the section above.