Interested in learning more about Sander Thoenes?

Previous Thoenes Award Recipients
Thoenes Funds in Action: Div III documentary film premiere

The Sander R. Thoenes Memorial Scholarship Fund
In memory of Hampshire College alum Sander R. Thoenes 87F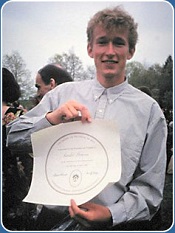 The award aims to encourage studies by Hampshire students pursuing Division II and III projects in journalism; documentary photography, film, or video; international relations; globalization; peace-building; civil society; and human rights. Student research that has been supported by the Sander Thoenes award includes the study of the health of undocumented migrants, fieldwork in Senegal focused on the accountability of NGOs, an investigation of the political implications of oil politics in Central Asia, a study of the Sri Lankan civil war, and a conference presentation of research on women in Morocco. Awards amounts are approximately between $300 and $1,000 and funding will be paid as reimbursement to student for project expenses.
Pictured above: Sander with his diploma on Commencement Day at Hampshire College
Application information:
Award: Approximately $300-1,000
Eligibility: Division II or III students who have been working in the listed areas.
Application Guidelines: Submit a 1-4 page application that has been crafted carefully with the support of your chair. The application must include the following:
Cover Sheet
Proposal that includes the following:

Introduction: Describe the purpose of your proposed research. You should demonstrate that you have thought critically about the research and methodology or project plan. State the specific aims or research questions of your project.
Methods: Describe how you plan to accomplish the project or execute the research.
Timeline: Describe the proposed time frame for the project and when major milestones begin and end.
Outcomes and/or Implications: Discuss the relevance of this research to the field and implications for future investigation.

Complete budget listing each item, its cost, and justification.
A letter of support from your Div II or III chair. 
All application material should be saved in file formats supported by Microsoft Word and emailed to James Miller, School of Cognitive Science: jmiller@hampshire.edu. Applications will be read by several screeners and are accepted on a rolling basis throughout the year.  Award decisions are made twice a year; usually in October and February. Deadline announcements will be posted on TheHub.
About Sander: Sander came to the College in 1987 from his home in the Netherlands. After concentrating in Soviet politics and journalism, he produced a highly original Division III study, "Between Glasnost and a Free Press: Soviet Journalism in the Gorbachev Years," which relied heavily on primary research Sander conducted in Moscow. He went on to report from dangerous, unsettled places where human rights were in jeopardy, including Russia and the former republics of the U.S.S.R. He was then Jakarta correspondent for the Financial Times of London. In September 1999, Sander was killed by Indonesian soldiers as he entered Dili, East Timor, to report on Timor's United Nations-sanctioned vote to separate from Indonesia. Sander's reporting also appeared in the Christian Science Monitor, U.S. News and World Report, and various other North American and European news media.

Sander's death was noted by many admirers, not least Kofi Annan, then secretary general of the United Nations, who said, "It is largely thanks to the courage and determination of men and women like Sander that crimes against humanity are brought to the attention of the world's conscience." Sander was recognized posthumously by the National Press Club, the Overseas Press Club of America, and others. See Sander's Memorial Page for more information about him.
If you are looking for a different kind of research grant, visit CORC's Fellowships, Grants, and Scholarships page.
Interested in learning more about Sander Thoenes?

Previous Thoenes Award Recipients
Thoenes Funds in Action: Div III documentary film premiere