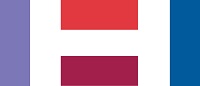 The Hampshire College logo, four rectangles that form an H in the open space between them, represents the four colleges (Amherst, Mt. Holyoke, Smith, and the University of Massachusetts Amherst) that created Hampshire, a proving ground for educational innovation and reform.
The logo must appear on every piece of internal and external communications.
Logotypes
The logo should, where feasible, employ the four "founders" colors, which closely approximate the colors of the founding schools, and the Hampshire wordmark should appear in black or white. In applications where the use of the official colors is not feasible, the logotype should be reproduced in a single color with the icon screens.
 


Please use these high quality versions of the logo:
Logo with wordmark »
Black logo with wordmark »
Icon only »