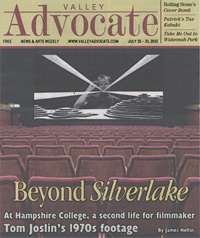 The Tom Joslin Fund is an endowed fund established in memory of former faculty member Tom Joslin by his students, friends, and colleagues. Tom Joslin was a professor of film and video at Hampshire College from 1977-1980.
He is known for his 1977 film Blackstar: Autobiography of a Close Friend, a coming out/love story of gay identity; and his posthumous film, Silverlake Life: The View From Here (Zeitgeist Films 1993; dvd released July 2003), about Tom's dying of AIDS in 1990. Justly praised upon its release, the film garnered a number of festival awards, including Sundance's Grand Jury Prize.
The Tom Joslin Internship Award supports students doing internships in the film industry, which can include television, performance art that includes video, and screenwriting.
Tom Joslin image credit, above: Jennifer Levesque

Who is eligible?

In order to be considered for this funding, an applicant must:

1. Be a current Hampshire student in good academic and disciplinary standing.

2. Be returning to Hampshire upon completion of the internship (graduating students and students taking a non-academic leave are not eligible).

3. Have an internship focused on film production. Internships related to most aspects of film or video production are eligible. The proposed internship should involve substantive, supervised work that will be done for at least 6 weeks AND a minimum of 20 hours per week.

4. Priority will be given to students who are doing eligible internships and who can demonstrate financial need.
HOW TO APPLY
Please download and complete the application packet on the main film grants page, and submit it in one envelope to the Career Options Resource Center, or by email to Sharón Friedner, sfriedner@hampshire.edu.