Associate Professor of Integrated Science and Humanities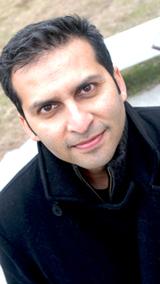 Salman Hameed, associate professor of integrated science and humanities, holds a Ph.D. in astronomy from New Mexico State University at Las Cruces and a B.S. in physics and astronomy from the State University of New York at Stony Brook.

His primary research interest focuses on understanding the rise of creationism in the Islamic world and how Muslims view the relationship between science & religion.

He is currently the lead investigator of a three-year NSF-funded study on this topic, and heads the Center for the Study of Science in Muslim Societies (SSiMS) at Hampshire College.

His other research interests include analyzing reconciliation efforts over sacred objects and places of astronomical importance and new-religious movements (NRM). His astronomy research is focused on understanding star formation processes in spiral galaxies.

He teaches interdisciplinary courses on science and religion, including History and Philosophy of Science & Religion (with philosopher Dr. Laura Sizer); Science in the Islamic World, Evolution, Islam, and Modernity; Aliens: Close Encounters of a Multidisciplinary Kind; and co-organizes the Hampshire College Lecture Series on Science & Religion.

Salman also runs IRTIQA, a science & religion blog with an emphasis on scientific debates taking place in the Muslim world.