Associate Professor of Sculpture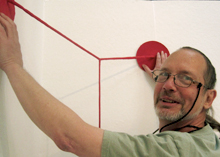 Thomas Haxo, associate professor of sculpture, received a B.F.A. from Pratt Institute and a M.F.A from the University of Pennsylvania. He has previously taught sculpture, drawing, and design at Amherst College, Mount Holyoke College, and S.U.N.Y. New Paltz.

His primary interests are figure sculpture and drawing, puppetry, and computer modeling/animation. His work has been shown nationally and is in numerous private collections.