Assistant Professor of Media Studies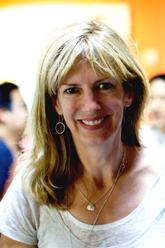 Viveca Greene, assistant professor of media studies, earned a Ph.D. from the communication department at the University of Massachusetts Amherst. In 2003, Viveca received the university's highest teaching honor: The Distinguished Teaching Award. She holds an Ed.M. from the Harvard University Graduate School of Education and a B.A. from the University of California at Santa Cruz.

Professor Greene is co-editor (with Ted Gournelos) of A Decade of Dark Humor: How Comedy, Irony, and Satire Shaped Post-9/11 America (University Press of Mississippi, 2011) and her work has appeared in The Nation, In Media Res, and We the Media: A Citizen's Guide to Fighting for Media Democracy.

She teaches courses in consumer culture, popular culture, audience research, and media studies.
Professor Greene will be on sabbatical leave for spring 2016.
Custom Ads
+

–

Media and the Middle East
+

–

Critical Media Studies: Irony, Crisis and Political Culture
+

–

Audience Research & Media Studies
+

–

Introduction to Media Studies