Application Deadlines

Spring 2014 Program
Thursday, October 10, 2013

Fall 2014 Program
Thursday, March 6, 2014
Program Availability: Fall and Spring Semesters
This program offers Hampshire students with Spanish language ability the opportunity to study in Costa Rica and Nicaragua for one semester. Students live with a Spanish-speaking family while they incorporate an internship or a more structured field course into their academic studies.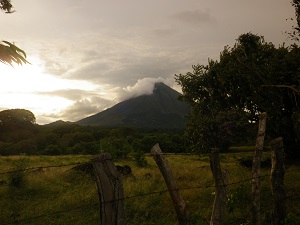 (The image above was taken at Finca la Flor de Para'so, an organic farm and ICADS Internship Site.) Photo by Emily Coble 10F, Fall 2012 Program Participant
About the Institute for Central American Development Studies
The Institute for Central American Development Studies (ICADS) was created in 1986 to fill the information gap in foreign policy between North American citizens and their governments, promoting a deeper understanding of the Central American Region. ICADS, a non-profit foundation located in San José, Costa Rica, is a center for study, research, and analysis of Central American social and environmental issues. They focus on women's issues, economic development, environmental studies, public health, education, human rights, journalism, community activism, and wildlife conservation.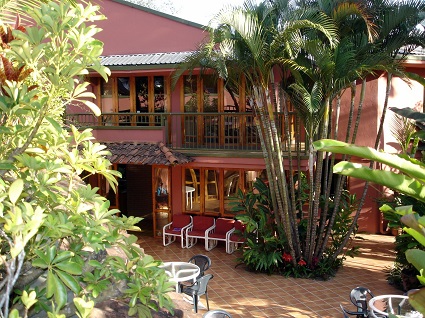 The ICADS Program Center
Students can choose from two semester program options:
The Field Program: Environment and Sustainable Development is a structured natural science/social science interdisciplinary course that takes place throughout Costa Rica.
The Internship Program: Social Justice and Development consists of one month of intensive language at ICADS in Costa Rica; students can then choose from a wide selection of internships in Costa Rica or Nicaragua.
Eligibility
This program is available to Hampshire students who are in good academic and behavioral standing. Other students should apply directly to ICADS. Detailed information on Hampshire eligibility requirements and policies is available under the Eligibility Requirements in the Exchange, Field Study, and Short-term Field Course section of the Hampshire College Handbook.

Prerequisite: A minimum of two semesters of college-level Spanish courses strongly recommended prior to participation in either program.
Term Dates
Fall Term: September-December
Spring Term: February-May 
Housing and Meals
Homestay with a local family. 
Program Costs
Semester tuition fees paid to Hampshire College. A travel stipend may be awarded by GEO to help offset the cost of airfare.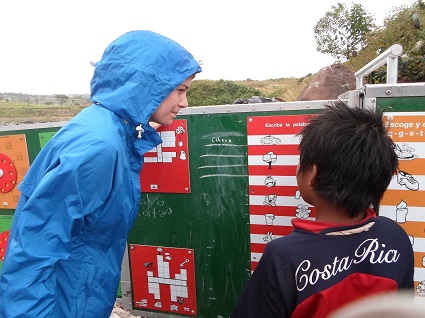 "Learning with Local Youth" Photo by Emily Coble 10F, Fall 2012 Program Participant
How to Apply
Applying to a Hampshire Exchange Program: Application instructions, requirements, and procedures.  
Students are required to meet with the GEO program advisor for this exchange program before submitting an application.
GEO Program Advisor
Please contact the GEO program advisor for the Hampshire Exchange Program through ICADS for all questions regarding this program and how to apply to it.

Matthew Shamey
413.559.5542
mshamey@hampshire.edu
Area Specialist
Brian Schultz
Associate Professor of Ecology and Entomology
School of Natural Science
bschultz@hampshire.edu
413.559.5486

Elizabeth (Betsy) Hartmann
Professor of Development Studies
School of Critical Social Inquiry
ehSS@hampshire.edu
413.559.6046
Application Deadlines

Spring 2014 Program
Thursday, October 10, 2013

Fall 2014 Program
Thursday, March 6, 2014