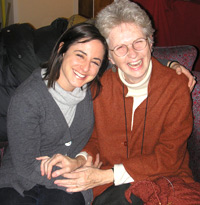 Theatre professor Elly Donkin wasn't surprised to see her former student Sarah Goldfinger 94F go on to success as a television writer and producer on shows such as CSI: Crime Scene Investigation, Brothers and Sisters, and Hawaii Five-O.
Goldfinger's short stories and plays stood out during her time at Hampshire, and Donkin expected big things from her.

Goldfinger now is giving back to Hampshire, pledging $70,000 for a Playwriting Practicum endowment that generates several thousand dollars a year to help current students experience world-class theatrical productions and meet playwrights and screenwriters who can share first-hand knowledge of the industry.
Her gift has already funded trips to see War Horse at the Lincoln Center Theater on Broadway and Porgy and Bess at the American Repertory Theater in Cambridge, MA. Donkin says that experiencing those productions left deep impressions on many students.

"It's a horizon buster to see a level of work that completely changes what you think is possible," said Donkin.

Visits from writers are expected to begin in fall 2012. Goldfinger already returned to campus for several days in spring 2011, speaking in classes, working individually with students, and providing valuable insights into what it takes to be a professional writer. After learning so much at Hampshire, Goldfinger said, she wanted to contribute to the College and support the next generation of Hampshire writers.

"I think it's important, if you had a good experience at Hampshire, that you donate money and do what you can, and realize that there are many different ways to do that," said Goldfinger. "You don't have to give $1.5 million to endow a professor. There are small ways to still give significant gifts that impact students immediately."