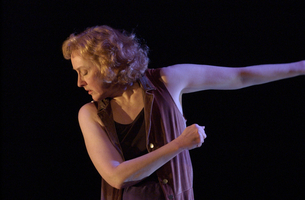 Daphne Lowell, professor of dance and movement studies, holds a B.A. in cultural anthropology from Tufts University and an M.F.A. in modern dance from the University of Utah. She studied authentic movement with Janet Adler and Edith Sullwold in the Mary Starks Whitehouse Institute; psychosynthesis with Dr. Thomas Yeomans; and body-mind centering with Bonnie Bainbridge Cohen. Earlier in her career she performed with the Bill Evans Dance Company, and taught dance at Arizona State University, the University of Washington, and Smith College. Daphne's authentic movement practice informs her teaching, choreography, writing, and contemplative dance solo performances. Her choreography has won awards including for the MassMoves! Best of Massachusetts series, and she has published several articles on authentic movement. The Contemplative Dance programs she teaches with Alton Wasson are nationally recognized www.contemplativedance.org. Since 1985 they have taught professionals of all ages at sites throughout the country.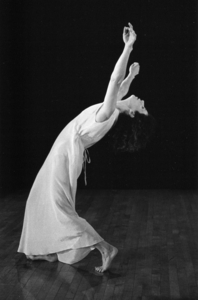 Rebecca Nordstrom, professor of dance, holds a B.A. degree in art (with a concentration in dance) from Antioch College, an M.F.A. in dance from Smith College, and is certified as a Laban Movement Analyst by the Laban Bartenieff Institute for Movement Study in New York City. Early in her career she was a member of Laura Dean Dancers and Musicians in New York City. She has since presented her own choreography and performed in the work of other artists in venues locally, nationally, and abroad. She is currently a guest artist with Chaos Theory, a dance company directed by University of Massachusetts colleague Billbob Brown. Her areas of interest and teaching include choreography, improvisation, modern dance technique, and Laban-based movement studies. Professor Nordstrom has retired.
Deborah Goffe, assistant professor of modern/contemporary dance is a performer, dance maker, dance educator, video artist and performance curator. Since the founding of Scapegoat Garden in 2002, the Hartford-based collaborative dance theater company has served as a primary vehicle and creative community through which Deborah has explored the intersection of dance with other media. Through Scapegoat Garden's performance works in venues and festivals throughout the region, its laboratory for creative process at The Garden Center for Contemporary Dance and its related community engagement programming, Deborah has sought to forge relationships between artists and communities, helping people see, create and contribute to a greater vision of ourselves, each other, and the places where we live. In 2012, Deborah was honored by the Connecticut Dance Alliance for Distinguished Achievement in Dance, and participated as New England Emerging Artist in Residence at the Bates Dance Festival in 2010. She has received Artist Fellowship Grants from the Connecticut Office of the Arts (2013, 2005), the Greater Hartford Arts Council (2007), and the Surdna Foundation (2008). A graduate of the University of the Arts (BFA, Modern Dance) and California Institute of the Arts (MFA, Dance Performance and Choreography), Deborah recently earned a Professional Certificate from Wesleyan University's Institute for Curatorial Practice in Performance where she explored curatorial practice as a way to nurture the health and vitality of local dance eco-systems. As a dance educator, Deborah has taught dance and related courses in a number of institutions, including Belmont High School in Los Angeles, California Institute of the Arts, CREC Center for Creative Youth, Trinity College, CulturArte (a youth arts summer residency program in Cape Verde, Africa), Greater Hartford Academy of the Arts, and Wesleyan University.
Constance Valis Hill, Five College professor of dance, received an M.A. in dance research and reconstruction from the City College of the University of New York, and a Ph.D. in performance studies from New York University. A choreographer and dance historian, she has taught at the Conservatoire D'Arts Dramatique in Paris, Alvin Ailey School of American Dance, and NYU Tisch School of the Arts; and has collaborated with the French playwright Eugene Ionesco, Czechoslovakian scenographer Josef Svoboda, and American director Gilbert Moses on the premiere of Toni Morrison's "Dreaming Emmett." She has contributed articles, essays, and reviews to many publications, and her book, Brotherhood in Rhythm (Oxford University Press 2000) won the Deems Taylor Award.
Christine (Griff) Goehring, adjunct instructor of dance, has taught and performed creative dance since 1972. She worked intimately with dance pioneer Barbara Mettler and shares Mettler's conviction that dance is a basic human need. Griff's work has encompassed teaching persons with disabilities, working with mothers and infants, and sharing dance with people of all ages. Her current focus is on large group dance improvisations. She makes her home in Brattleboro, VT.
Jean Barrett Baxter, Five College production manager, received her B.A. from Cornell University in history of art and certification from the Harvard University Institute in Arts Administration. She received Hartford Conservatory's certificate in modern dance under Truda Kaschmann, studied lighting design with Beverly Emmons, and has designed for dance companies and colleges throughout the northeast. Ms. Baxter is production manager of the Five College Dance Department, and serves on the board of trustees of Pioneer Valley Performing Arts Charter High School, and on the advisory board of the American College Dance Festival Association. Ms. Baxter lives in Hadley and is an active Girl Scout leader and Sunday school teacher.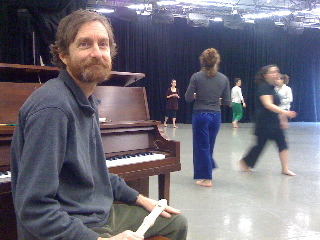 John Sprague, dance accompanist, has been providing improvised music for dance classes and performances at Hampshire and the Five Colleges for 18 years. John also works with Daphne Lowell at her annual summer Contemplative Dance workshops. John has released five albums of original music, including three CDs designed for movement and dance. His CD, Moving Spaces, was nominated by JPFolks, a large independent music organization, as "best instrumental album" of 2002. John can also be found providing music at movement improvisation sessions, workshops, and jams around New England at such places as Earthdance, the Dance Complex in Cambridge, and Dance New England, and in the past has worked at Jacobs Pillow and the School for Body-Mind Centering. John leads a movement workshop called the Moving Village and works as a creativity facilitator for groups and individuals. He also works with teenagers at North Star: Self-Directed Learning for Teens, and is a world religions specialist, teaching multi-faith spiritual studies at the Maezumi Institute.