Did You Know?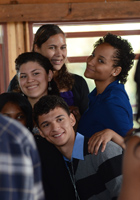 The James Baldwin Scholars Program is funded by Hampshire College. Increased donations would ensure that Hampshire continues to offer full financial support to Baldwin Scholars for years to come.
Make a Gift »
A Transformational Experience at Hampshire
The James Baldwin Scholars Program provides a full scholarship year of college courses to talented students from underserved communities who would benefit from a year-long program of a modified course schedule, close academic support, and intense advising.
During the Baldwin year, these students hone their academic skills and deepen their preparation for the rigors of college studies at Hampshire College.
 
Financial and Academic Support
Baldwin Scholars receive a scholarship that fully meets the cost of attending Hampshire for one year, including tuition, room and board, and other expenses.
 
After the Baldwin Year
Most Baldwin Scholars complete the program successfully and continue their studies at Hampshire College. Scholars who continue at Hampshire apply the coursework completed during the Baldwin years to fulfill the College's academic requirement. Once they complete their Baldwin year, scholars receive generous financial support.
 
History
The Baldwin Program, named after the preeminent African American writer and scholar James Baldwin, who taught at Hampshire, has been expanded to serve African American and other students with demonstrated talent and ambition, but who are underprepared for college due to inadequate resources and opportunities in their communities and schools.
"I felt like it was impossible to fail, that I was supported on all sides and that there were people who really cared about my education."
-- Chris McMillan 03F
Did You Know?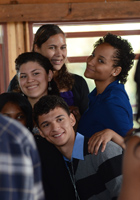 The James Baldwin Scholars Program is funded by Hampshire College. Increased donations would ensure that Hampshire continues to offer full financial support to Baldwin Scholars for years to come.
Make a Gift »