Our Mission
Read our mission statement to learn more about the program's philosophy, goals, and method.
The orientation program is designed to support new students as they begin their journey at Hampshire. During the course of the program, we gradually introduce new students to life at the College, from academics and community norms to resources and support services.
Fall 2015 Orientation: When to Arrive
New students and families should plan to arrive on Thursday, September 3 between 9 a.m. and 1 p.m. to check in. Students will receive their orientation schedule, ID cards, keys, and other important documents during check-in, and will have until 3 p.m. to move into their campus residences. A picnic lunch will be provided for new students and families from Noon-1:30 p.m. that day. Students will meet their orientation groups at 3:30 p.m., which will be followed by a Welcome Ceremony for students, families, and friends at 4:30 p.m. New student orientation extends through Labor Day weekend.
---
Before You Arrive
As your prepare for your arrival, check out our list of things to do before you arrive. And don't forget to check your Hampshire webmail periodically to make sure you're up to date: This is how we'll be in touch with you.
New Students: What to Expect
The first days of your Hampshire experience will be guided by orientation leaders. They are returning students who are committed to helping new students make a smooth transition into Hampshire life. After you've settled in on Opening Day, you'll meet your orientation groups in the afternoon.
Every group of new students is led by at least two orientation leaders. For first years, this group will include your fellow first-year classmates. For transfers, your group will include fellow transfers. This group will be your home base for small group activities, where you'll get to know each other and express your hopes and fears about college.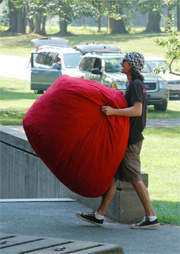 Your orientation leaders will be available to answer your questions, hear your concerns, and share your excitement about Hampshire. They'll give you tips and take you on tours and adventures.

These formative days are not only meant to be educational; they're also meant to be fun. Our creative orientation leaders design innovative and entertaining activities for new students to learn more about each other while familiarizing themselves with Hampshire.
Fall Orientation (September program)
First-year students: You'll spend most of your time during orientation with your tutorial classmates--small groups of approximately 14 students whom you'll see weekly in your tutorials for the rest of the semester--and two or more orientation leaders.
Transfers: You'll also have your own small groups, composed entirely of other transfer students. You'll also have the opportunity to meet all of the other transfers during orientation. Every incoming class usually includes 40-50 transfer students.
Spring Orientation (January program)
First-year students: Your orientation groups will include other incoming first-year students and two or more orientation leaders. You'll have the opportunity to interact with other incoming students through activities that allow you to be a part of several different groups throughout orientation.
Transfers: Your small groups will be composed of transfer students, and you will also have the opportunity to meet all of the other transfers during orientation.
Focus of Orientation
The focus of orientation, like academics at Hampshire, is on the small group experience and student-led activities.
You won't have to sit in auditoriums and listen to long lectures. Instead, most of your time during orientation will be filled with orientation leader-led activities in your small groups and occasional special performances with all new students.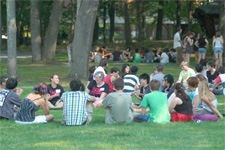 You're grouped with your tutorial or transfer classmates during orientation for a reason: to foster community building from day one throughout your first semester and into the rest of your Hampshire career.

Check out some examples of orientation activities to get a taste of what you can participate in when you get to campus.
Common Reading
We also offer the opportunity to participate in discussions and programs about the common reading, which students will receive before arrival.
Video from Orientation and Move-In Day 2013:
---

Publications

Latest edition of the New Student News
A newsletter created by the office of new student programs. Includes information about upcoming dates, deadlines, and other useful information.

Taking Root: An Illustrated Guide to Hampshire
Taking Root is a student/alum-written publication that describes the history of the College, the academic system, and the available resources on campus, all in a fun, cartoon-style format.

Student-created Disorientation Packet
This disorientation packet was created in the summer of 2007 by graduating students interested in documenting their perceptions regarding issues of race and diversity on campus. It was updated in the summer of 2011 by Ria Sen 07F and JD Stokely 07F.
Our Mission
Read our mission statement to learn more about the program's philosophy, goals, and method.