Some science students remained at Hampshire through the summer and worked with their professors on research that they will integrate into their Division III (senior thesis) or Division II (academic concentration) projects. Others completed summer internships in settings including New York University's Center for Neural Science, Harvard Medical School, laboratories at the University of Massachusetts, Hartford Hospital's cardiology department, Beth Israel Hospital, and the medical office of a general practitioner.

These science students shared posters and information about their experiences at a gathering designed to assist students interested in arranging summer internships for 2009.
The School of Natural Science and the Career Options Resource Center (CORC) joined the Sciences Network, a campus organization of students of color and international students working in the sciences, in hosting the September 24 event in Cole Science Center.
To cite but a few, science internships during summer 2008 included:
Sopiya Karki, Yash Patankar, and Rohit Panchakshari each received a grant to intern with the Harvard Medical School department of immunology.
Andrew Torrens worked in the laboratory of a microbiologist at the University of Georgia, researching genetic differences among strains of bacteria from Kamchatka, Russia. This internship was funded through the National Science Foundation Research Experience for Undergraduates (NSF REU) program.

Britton Van Vleek joined chemistry professor Dr. Dula Amarasiriwardena and the Hampshire College Analytical Chemistry Research Group on a project funded by the Society for Analytical Chemists of Pittsburgh, or a Pitcon grant. This group investigated problems related to soil and environmental chemistry, including extensive evaluation of trace metal distribution within soil fractions of a New England shooting range.

Cameron Peebles, Nathan Sick, and Danielle Nalband worked with organic chemist Dr. Rayane Moreira on projects funded by Hampshire's Morris Sustainability Endowment Fund and a Cottrell College Scholars stipend provided by The Research Corporation. The Morris Fund was established in honor of alumnus Sam Morris 97F.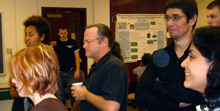 Ellen Dulaney worked with the University of Massachusetts Amherst psychology department, investigating the effects of stress on the response of female mice to estradiol and progesterone. Her internship was funded by a grant from Hampshire College's Culture, Brain, and Development (CBD) program.
Eric Lubeck also worked at UMass, performing studies on the growing cell wall of
L. Formosa
pollen tubes. This internship was funded by an NSF REU grant.
Learn more about the college's science programs
here
.