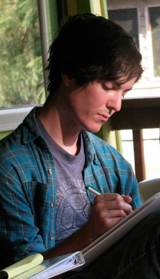 After spending seven weeks as a fellow with the Northwest Institute for Social Change in Portland, Oregon, this past summer, Hampshire student Will Bangs finds himself planning his Div III, or final college project, on media arts and education with a whole new comprehension of the skills needed to tell compelling stories in a wide variety of formats.

"I've always been interested in the way media can be used for social matters," said Bangs. "I left with a renewed confidence and hope in the way that media can affect change on a community level. This was a huge turning point for me."

Bangs was one of 12 students nationwide chosen for a 2008 fellowship. The fellowships are aimed at inspiring and educating young journalists and artists in ways they can use their talents to discover localized solutions to larger national public policy issues.

For his main project with Northwest Institute, Bangs investigated ways that local government could support affordable housing and work space for artists, allowing them to remain in an increasingly more expensive downtown so that it remains vibrant and lively. "It ties into gentrification and a lack of affordable housing," says Bangs. "Portland is one of the only places this is supported by local government."

Bangs was one of two students chosen to present the work done over the course of the summer at a Portland city council meeting, an experience that ranked as a highlight for him.

"All of the topics were pertinent to politics and policies that are under scrutiny, "says Bangs." This was all about learning how to make media pieces heard, so this was exciting to me. It was a great learning experience out there, and it primed me for a year of Div III work. I'll be using a lot of skills from the summer."