For second-year student Amelia Carter, researching the harsh realities of human trafficking involves commitment to the future of those rescued from this appalling, modern-day form of slavery.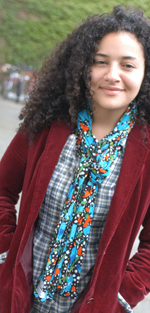 "I'd like to look at the social services available to the survivors of human trafficking. There's not much information on life after they're rescued. I'd like to find out what is seen as a success story, and how often there are success stories," says Carter.

Her interest was sparked while conducting research for a paper on child soldiers during her first year at Hampshire. "The words human trafficking kept coming up," says Carter. "It was something I didn't believe existed on the scale that it does."

Carter's interest in studying trafficking in Southeast and South Asia led her to sociology and Asian studies professor Susan Darlington, and her focus eventually began to center on Thailand. Drastic inequalities between rising middle and upper classes in more-developed cities and the impoverished residents of many rural areas, says Carter, have helped to worsen the human-trafficking issue in Thailand.

Carter is pursuing Thai language classes through the Five College consortium, which will help her next year when she visits the city of Khon Kaen with the Council on International Education Exchange as part of her Division II work. "I'll be looking at development and globalization and the role gender plays in that," says Carter.

She plans to return to Thailand after that trip to pursue her Div III research and to work as an intern at organizations that assist the survivors of human trafficking.