Energy, enthusiasm, and perseverance go a long way for Hampshire alumnus Roger Sherman 73S when he's looking for an intern.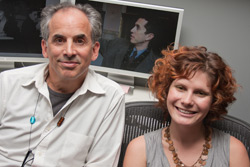 The Emmy and Peabody Award-winning filmmaker, and cofounder of Florentine Films, values technical skill and a good resume, but the intangibles are often even more important.

That's why he decided to take a chance with Anna Jacobson 05F. The two met at Jacobson's Hampshire graduation in 2009.

"She told me she had just graduated and was moving to New York, and asked if she could have an internship," says Sherman. "But I actually already had an intern for that summer."

Jacobson, though, had made an impression, and Sherman decided he had a project for her to tackle. Back in 1998, the filmmaker had chronicled 11 months in the life of famed New York restaurant owner Danny Meyer as he opened his newest restaurants, Tabla and Eleven Madison Park. It was planned as part of a series on food and world-class restaurants that never materialized. The footage had set on a shelf for over a decade, but the time finally seemed ripe for revisiting the idea.

"By 2009, celebrity chefs were a part of the culture. Meyer had five restaurants, and was possibly the most successful restaurateur in America," Sherman says.

JoVa Vargas 06F was Sherman's Hampshire summer intern, and had been importing the raw footage into a computer-editing program. When her internship ended Jacobson jumped in, finished the importing, and began editing, working directly with Sherman. She ended up editing the entire film.

"I was basically giving her a master class in filmmaking. She got a major credit, and I got a major film," says Sherman. "She would edit a scene, we'd talk about why the scene did or didn't work. Out of that came The Restaurateur.

It was a perfect situation for Jacobson: "I was excited to have some creative control, which is rare when you're starting out. Roger was always there to tell me what I should be doing, but he would also trust that I would know how."

Jacobson spent much of the next five months working, eventually in a salaried role, at Florentine Films in Midtown Manhattan. The Restaurateur is now on the film festival circuit, where it won the Sonoma International Film Festival's award for best food documentary and the Double Feature Film Festival's best domestic documentary award. It has been accepted into The Big Apple Film Festival and will show at the Tribeca Cinemas on November 3 at 8:15 p.m. Sherman will be there to participate in a Q&A session at the end of the film.

Jacobson is now working on a documentary about reconstruction efforts going on in Haiti, most specifically the building of an orphanage. It's a job for which Sherman recommended her, something he does for most of his interns.