A May 2010 graduate of Hampshire, Akira Céspedes Pérez 06F now works with Teach for America, a nonprofit organization that recruits recent college graduates to teach in underserved communities for two years. Following her two-year commitment, she intends to pursue a joint degree in public health and law.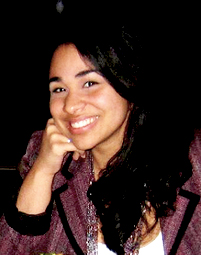 She is teaching in Tulsa, Oklahoma, focusing on bilingual education: "Officially it's called Language Development, so there are folks that are learning English, some folks that don't know any English, or some people that do know it but need to work on the mechanics of the language. It's my job to help them," Céspedes Pérez says.

She was sold on Hampshire College the moment she saw the admissions slogan "an education as unique as you are." "I wanted to explore and delve into youth empowerment, law and medicine studies, and Hampshire was the only place where I could synergistically combine all of them," she says.

Her academic career at Hampshire was largely defined by the diversity in projects she undertook. Among them: working in New Orleans on HIV/AIDS prevention literature; coordinating the Civil Liberties and Public Policy program's (CLPP) annual reproductive rights conference; and volunteering with A Day in the Lab/Girls' Day in the Lab, two annual events that bring students from area middle schools into Hampshire's science lab. She settled on medical anthropology and public health as her focus of study.

Her Division III (senior) project was an in-depth report on clinical drug trials in her native Puerto Rico: "Patients would see clinical trials as ways to get access to free healthcare [and] medication. A lot of them don't weigh in the risks of being in a clinical trial. They were choosing the lesser of two evils . . . The pattern for people wanting to be in clinical trials is related to a health reform bill that didn't meet their needs."

As she thinks about graduate programs, Céspedes Pérez points to her Hampshire education as a valuable asset. "Hampshire really taught me how to think. I don't do cookie cutter ideas," she says, "If you give [Hampshire students] a solution, we will critically analyze it until the end of the world."