Posted: November 02, 2011
Kim Lee Ripley 90F, infant co-teacher at the Hampshire College Early Learning Center, was recently selected to present at the National Association for the Education of Young Children (NAEYC) annual conference in Orlando, Florida. NAEYC is the world's largest organization working on behalf of young children.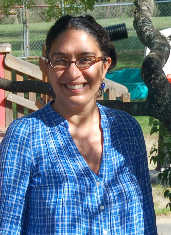 Ripley, who has taught at the Early Learning Center for 11 years, collaborated with Professor Ben Mardell of Lesley University and, through the Poppins Corporation, representatives of Tokyo University.

The group's presentation was entitled "The Slow Curriculum Movement: Co-Constructing Powerful Learning Experiences With Infants and Toddlers." The group studied the interactions of the Early Learning Center's toddlers and infants. Toddlers were observed arranging the school's studio space to their liking, and subsequently inviting the Center's infants to experience the room with them.

"These toddlers set their own curriculum and invite the infants to participate," Ripley said. "The project focuses on nonverbal language, children mastering their own environment and coming together with their peers, having a sweet experience."

Ripley's philosophy is deeply influenced by the schools of Reggio Emilia and Pistoia, Italy. "The overarching philosophy of these schools is that children are full of knowledge and are looking for ways to co-construct their learning."

Presenting at the conference marks a new milestone in Ripley's career. "It is an absolutely incredible honor," Ripley says. "I've presented at a number of conferences and done workshops locally, but this is huge. This is a national conference, the biggest conference in our field."