Wednesday, August 22, 2012
Nourishment. Community. Resource politics. Food shapes us all, individually, locally, and globally.

How might food shape the college of the twenty-first century?

Anyone passionate about food (and, seriously, who isn't?) or hungry for information is invited to participate in events and discussions being organized by Hampshire College around topics related to healthy food for a healthy campus and a healthy world.
A daylong program on October 24 will bring local and alumni farmers, food producers, and organizations committed to sustainability to the Hampshire campus. The day will also include a healthy food forum and an advance screening by Hampshire alumnus Ken Burns 71F (at right) of excerpts from his forthcoming film, The Dust Bowl.

All who are part of Hampshire and its larger and local communities are invited to attend and participate in this special day, called "Sustainable Hampshire: Food and Farm for the Future."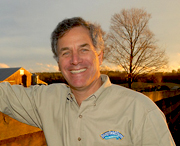 The October 24 program is part of a comprehensive Healthy Food Transition at the College. The Healthy Food Transition is supported by a $1 million gift from Hampshire alumnus Gary Hirshberg 72F (at right), chairman and cofounder of Stonyfield Farm, the world's leading organic yogurt producer.

Hirshberg announced the gift that he and his wife Meg were making to Hampshire at the inauguration of President Jonathan Lash last April, giving it in support of President Lash's vision for Hampshire College. That vision includes educating "tomorrow's entrepreneurs of change"—leaders prepared to meet the challenges of a rapidly changing world. Among those challenges is the need for sustainable models for provision of healthy food, locally and globally.

The Healthy Food Transition will use food as a means to teach students, experiment with new models of food systems, serve the Hampshire community, and communicate values, Lash said. An inclusive process will be used to develop a sustainable model farm and food operation at the College.

The Healthy Food Transition aims to strengthen relationships between Hampshire and neighboring farmers as well as alumni farmers. Operations at the already thriving Hampshire College Farm Center will be central to the Healthy Food Transition process.

OCTOBER 24 SCHEDULE

On October 24, "Sustainable Hampshire: Food and Farm for the Future" opens at 10 a.m. with a farmer's market and food festival held in the Red Barn area of campus. Farmers and programs dedicated to healthy food and sustainability have been invited to set up booths to sell their products and showcase their operations from 10 a.m. until 2 p.m.

A 2 p.m. forum in the Main Lecture Hall (in Franklin Patterson Hall) will highlight the inclusive process the College is using to implement the Healthy Food Transition. Speakers will include President Jonathan Lash, Hampshire's sustainability initiative director Beth Hooker, and alumnus Howard Wein 93F, of Howard Wein Hospitality, who is working with the College on plans for the Healthy Food Transition.
The forum will include a panel of sustainability and food experts discussing exciting possibilities for Hampshire: Andy Kendall, executive director of the Henry P. Kendall Foundation; Philip Korman, executive director of Community Involved in Sustaining Agriculture (CISA); Michael Iceland, communications and brand manager of The Food Project; Dave Jackson, founding farmer of Enterprise Farm; Anne Obelnicki, director of sustainable food systems at Sterling College; and Oona Coy 96F of Town Farm and the Tuesday Market in Northampton.

At 4 p.m. in the Robert Crown Center, Ken Burns will screen excerpts from his forthcoming film, The Dust Bowl, which will premiere on PBS in November. The film examines how mistakes in farming, government, and information led to a massive environmental and economic disaster. The Dust Bowl has significant parallels to today, with heat waves and drought across the country, during a time of economic crisis and in the midst of a U.S. presidential campaign.
A panel of climate change and history scholars will follow the screening, including: Professor Raymond S. Bradley, director of the University of Massachusetts Climate System Research Center; Professor Steven Roof; and Professor Amy Jordan.