Thursday, September 6, 2012
Hampshire welcomes 440 new students to campus—368 first years, 54 transfers, and 18 visiting and non-degree students.

The new students include 12 James Baldwin Scholars, the largest-ever entering group in this program for talented students from traditionally underserved communities. Named for novelist James Baldwin, who taught at Hampshire, the Baldwin Scholars program is celebrating its 20th anniversary this year.

Hampshire's entering class of fall 2012 comes from 37 states and 15 countries. Nineteen percent are students of color and 5 percent are international students.

These students attended 356 different high schools. They range in age from 16 to 29.

They are the enrolled students from a record-breaking number of applicants for Hampshire's entering class.

To list just a sampling of their individual accomplishments and adventures:

One was born on a sailboat off the coast of South Africa and spent the first five years living on the water. Another sailed the Atlantic (twice). Other individuals have lived with the Navajo nation, were the first woman to play on the men's soccer team in Kenya, or spent a summer herding cattle on a Colorado ranch. Another made a greenhouse out of water bottles.

Others made electroluminescent flat fielding panels for astronomical imaging, or belonged to a punk rock band that's gotten global recognition, or performed with the San Francisco Shakespeare Troupe, or worked with earthquake relief in China, or started their own businesses.

Half the class held significant leadership positions in high school. These students have been active in gay/straight alliances, the National Honor Society, and environmental clubs. They are musicians, DJs, and writers; actors, organic farmers, and glider pilots; poets, theatre geeks, LARPing enthusiasts, filmmakers, and activists.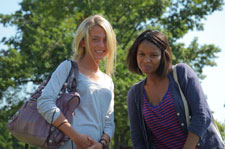 More than half participated in athletics—cross-country, basketball, baseball, football, wrestling, soccer, volleyball, triathlon, and cheerleading. Also in the class are students who have done belly dancing, Krav Maga, dragon boat, cricket, fencing, Quidditch, water polo, Bollywood dancing, and trapeze.