Tuesday, September 18, 2012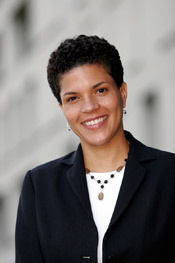 Civil rights lawyer and activist Michelle Alexander—author of The New Jim Crow—will deliver the 15th Annual Eqbal Ahmad Lecture on November 1 at 4 p.m. Her talk, "Mass Incarceration in the Age of Colorblindness," will be held in the Robert Crown Center and is free and open to the public.

The New Jim Crow received the NAACP Image Award for outstanding literary work of nonfiction. It has been featured on national radio and television media outlets including the Bill Moyers Journal, Tavis Smiley Show, C-SPAN's Washington Journal, and National Public Radio.

Professor Alexander holds a joint appointment at the Kirwan Institute for the Study of Race and Ethnicity and the Moritz College of Law at Ohio State University. She was previously a professor at Stanford Law School, where she directed the Civil Rights Clinics.

The annual Eqbal Ahmad Lecture honors the teaching, scholarship, and activism of the late Eqbal Ahmad, who was a longtime Hampshire College professor. Professor Ahmad's faculty colleagues, former students, family, and friends from around the globe have joined together to make this lecture series a continuing celebration of his life and work. Previous Eqbal Ahmad Lecturers include Kofi Annan, Edward Said, Noam Chomsky, Arundhati Roy, Seymour Hersh, and Tariq Ali.

For further information, please email jlcPR@hampshire.edu.