Monday, November 26, 2012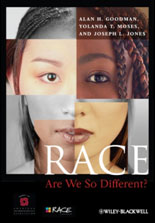 Is race real? What do we really know about race?
Race is a short word with a long history. A new book coauthored by a Hampshire College professor explores the central idea of race and how it has been made real, challenged, and changed throughout history.
Watch interview about Race: Are We So Different? with Alan Goodman on WGBY's Connecting Point (interview begins at point 9:56 in the video) >>
"This book brings together compelling evidence from many disciplines to show that ... the biology of race is a powerful myth. It is important, absorbing, educational, and masterful in its telling." - Daryl G. Smith
RACE: Are We So Different? is by Alan H. Goodman, Yolanda T. Moses, and Joseph L. Jones. Published by John Wiley & Sons, it is sponsored by the American Anthropological Association (AAA), the world's largest professional organization of scholars and practitioners in the field of anthropology.

Goodman is professor of biological anthropology and the former vice president of academic affairs and dean of the faculty at Hampshire College. He has written extensively on human variation and the biological consequences of inequality and poverty.

A past president of the AAA, Professor Goodman co-leads the association's popular national public education project on race, which was funded by the National Science Foundation and the Ford Foundation. More >>

Moses, a cultural anthropologist, is associate vice chancellor for diversity excellence and equity at the University of California Riverside. With Goodman, she co-leads the AAA RACE public education project, and is also a past president of the association.
Jones was the RACE project manager and is completing a dissertation in anthropology at the University of Massachusetts Amherst. Goodman is his Ph.D. supervisor and Jones has also taught at Hampshire.

Illustrated in full color with over 100 images from the AAA's national public education project and museum exhibition, RACE: Are We So Different? offers a primer on the complex science of human variation and the history and lived experiences of race and racism.

The book provides examples from both research and personal experiences, revealing the different ways that the idea and realities of race and racism are experienced. It explores the contemporary experience of race and racism in the United States and the often-invisible ways race and racism have influenced laws, customs, and social institutions.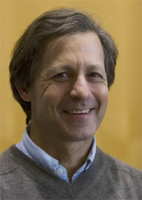 RACE: Are We So Different? is available in a variety of formats, including hardback, paperback, and e-book. More>>

The book is the second for Professor Goodman this year. He co-edited Nutritional Anthropology: Biocultural Perspectives on Food and Nutrition, second edition, which was released in June by Oxford University Press. More >>