Wednesday, February 6, 2013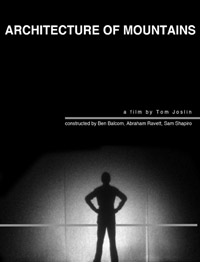 Architecture of Mountains, an unfinished film by Tom Joslin, has been completed by Professor Abraham Ravett and two Hampshire alums, Sam Shapiro 07F and Ben Balcom 04F.

Documentary filmmaker Joslin taught at Hampshire College from 1977 to 1980. He is well known for his 1977 film Blackstar: Autobiography of a Close Friend, a coming out/love story of gay identity, and the posthumous, groundbreaking film Silverlake Life: The View from Here. Shot with a video camera, Silverlake Life documented the final months of the relationship of two gay men as both struggled to deal with AIDS.

When Joslin died of AIDS in 1990 he left all of the videotapes for the Silverlake Life project to Hampshire alum Peter Friedman 76F, who finished that film. It received several awards, including the Sundance Grand Jury Prize.

While at Hampshire, Joslin worked on another 16mm film inspired by Jose Argüelles' book, The Transformative Vision: Reflections on the Nature and History of Human Expression. All the original materials for that project, which Joslin called The Architecture of Mountains, were left with another of his former Hampshire students, Ken Levin 77F.

Film and photography professor Ravett asked Levin if he could use the footage for a class project on the use of recycled images. Over the past three years, Ravett and his students shaped the material into a 63-minute film, basing the work on Joslin's production notes, conversations with his former students and colleagues about the project, the Argüelles text, and their own speculations about what Joslin may have wanted to construct. It reflects Joslin's interest in perception and human consciousness, and his evolving interest in fusing nonfiction, experimental, and dramatic genres.

A DVD of the film is now available for sale, with all proceeds going to the Tom Joslin Fund at Hampshire College. The endowed fund, established in memory of Joslin by his students, friends, and colleagues, supports student internships in the film industry.

For more information or to purchase a copy of the DVD, please contact Professor Ravett at aravett@hampshire.edu.