Monday, April 1, 2013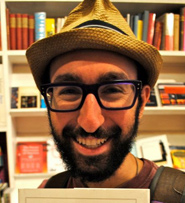 Hampshire College student Eli Plenk 10F has been awarded a 2013 Humanity in Action Fellowship.

Fellows are selected on a competitive basis for high academic standing, active participation in human rights issues, and outstanding recommendations.

The fellowships bring together international groups of college students and recent graduates to explore different national histories of discrimination and resistance to injustice, as well as examples of contemporary issues affecting minority groups.

The programs are also intended to instill in Fellows a responsibility to recognize the need to protect minorities and promote human rights in their own communities and around the world.

The 2013 Fellows program takes place in June in Amsterdam, Berlin, Copenhagen, Lyon, and Warsaw. Plenk will join Fellows from colleges and universities in Bosnia and Herzegovina, Denmark, France, Germany, the Netherlands, Poland, Turkey, the Ukraine, and the United States.

This year's 42 U.S. Fellows come from diverse backgrounds and represent 38 different academic institutions.

"This unusually high level of diversity makes this international program unique, dynamic, and challenging," says Dr. Judith Goldstein, Humanity in Action's executive director and founder.

Plenk will join the other U.S. Fellows in an orientation workshop in Washington, DC, from May 27 to 30, focusing on European security and political issues. Segments will be devoted to advising the Fellows on building careers in the field of foreign policy.

The fellowship is highly interdisciplinary and features daily lectures and discussions with renowned academics, journalists, politicians, and activists, as well as site visits to government agencies, nonprofit and community organizations, museums, and memorials.

This year's fellowship will conclude with the fourth annual Humanity in Action International Conference in Warsaw from June 27 to 30. The 2013 fellows will gather there with Humanity in Action Senior Fellows, board members, and distinguished guests.

Humanity in Action is an international educational organization that educates, inspires, and connects a global network of students, young professionals, and established leaders committed to promoting human rights, diversity, and active citizenship in their own communities and around the world.