Thursday, April 18, 2013
The Creativity Center at Hampshire College has awarded grants to six student projects in two categories: innovation and experimentation, and collaboration.

Projects bring together students from divergent disciplines in the pursuit of integrative learning, or fuel innovation and risk-taking in academic work that takes place both inside and outside the classroom.

Awards of up to $500 were granted to students across the College:

Seeing Dogs Seeing People "Seeing" Dogs
Elizabeth Braff
Elizabeth Braff's Division III project is an artistic photographic exploration of canine visual color perception. Alternative photographic practices will be used that create the visual spectrum of depth and color by isolating individual color negatives. The project experiments with the psychology of how humans perceive dogs, and how dogs perceive people by exploring visual realities and confronting commonly held beliefs about our interactions with dogs.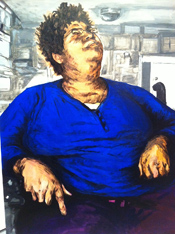 Portraits of Wellness
Esther Dane
Esther Dane's Division III, Portraits of Wellness, combines art with science research by conducting interviews with six diverse individuals on their background and experiences inside and outside the biomedical healthcare system. In conjunction with these interviews, portraits will be developed using the medium of drawing and painting. The end result will be an exhibition of work and stories that engage a larger conversation about wellness and progress toward a more patient centric method of care.

The Girl in the Glass Cage: Working Women and the Politics of the Motion Picture Palace
Emily Drummer
Emily Drummer's Division III examines the role that women movie theater workers played in early twentieth century American popular culture. The project questions the line between creative and critical practice in two distinct, but interconnected parts: a research paper that illuminates the long overlooked history of her subject informed by a wide range of archival materials, and an experimental documentary comprised of found and original footage that provides a visual narration of the themes addressed in her paper.

Through the Looking-glass and What Alice Found There
Courtney Price
A theatrical, multimedia adaptation of Lewis Carroll's Through the Looking-glass and What Alice Found There. Price's Division 3 combines theatrical and cinematic storytelling to present Alice's exploration of herself and her environment. It also explores the methods of storytelling used in theatre and film and how to combine the strongest aspects of both forms into a theatrical production.

Poppies
Magdalena Bermudez and Ruth Kace
This collaborative project is a short narrative film exploring the creation of two women's social media profiles, and physicalizes the presence of their internet personas through sculptural installation on the walls of their actual room.

Switchboard Magazine
Remy Schwartz and Duncan Sullivan
Switchboard is an online magazine offering weekly news and culture for the Five Colleges. The content is contributed by young writers and editors, and concentrates on covering the Five College community with visual and written media. The magazine offers an interactive space for students to voice opinions and create conversations that are culturally relevant to them.

On Friday, April 19, from 1 to 3 p.m., the Creativity Center will host a student grant tour as part of Creative Interruptions, a daylong series of events and workshops.

Event schedule and details >>