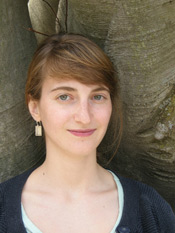 Recent changes in the earth's climate are having profound effects on the planet's natural systems. The melting of polar ice caps, rising oceans, and hotter temperatures may be more widely publicized, but many concerned scientists, like Katy Hofmeister 09F, are studying climate change's more localized effects.

Hofmeister, working with committee chair Christina Cianfrani, studied stream temperatures in Stroubles Creek, a stream in Blacksburg, VA. The stream begins in an urban setting, before flowing through agricultural land and ending in a forest. Hofmeister's focus was the effect that land use has on the stream's temperature.

After doing fieldwork and placing probes to monitor the stream's temperature, the next step was to analyze the data. Hofmeister developed a mathematical model to interpret how vegetation along the stream impacted its temperature. "My question was," she says, "?How important is vegetation, and how much vegetation do we need to offset any warming in the water?' If we know the air temperatures will be increasing between two and four degrees, what would happen to the stream if there's no vegetation, how would that change if we added canopy cover?"

Water temperature is an important part of an ecosystem's balance. If temperatures continuously rise, it can force the migration of certain species to colder waters, and also disrupt the egg-laying cycles of aquatic life.

In addition to her Divisional studies, Hofmeister works at the Hitchcock Center, an environmental education center which plans to relocate to a site on the Hampshire campus in the future. "I love being at Hitchcock," she says. "I like having to translate what you learn in class to how a five year old sees the world."

Hofmeister will continue her studies at Cornell University in the fall. Her experience at Hampshire has given her the confidence to pursue her academic goals. "The experiences that I had at Hampshire developing and conducting my own research have made me feel like I'm capable of doing that," she says.