Wednesday, May 1, 2013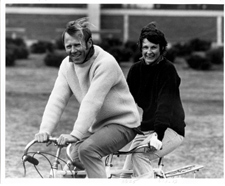 Hampshire College will award honorary degrees to Charles R. (Chuck) Longsworth and Polly Longsworth during the May 18 commencement.

Chuck and Polly Longsworth were involved from the beginning in the creation and leadership of what was to be a new kind of college. Chuck was the first employee of Hampshire, charged (he then worked for Amherst College) with bringing the "New College Plan" into reality.
He and Polly were active in many ways in the founding and opening of Hampshire, locating and negotiating for purchase the land where the College is located. Chuck then served as Hampshire's second president, from 1971 to 1977.

The Hampshire College Board of Trustees unanimously voted to recognize the many contributions of the Longsworths by presenting each of them with the Doctor of Humane Letters. Theirs will be the fourth and fifth honorary degrees presented by Hampshire College: The first three were awarded at the opening convocation in 1970, to poet Archibald MacLeish, historian Henry Steele Commager, and U.S. Representative Silvio O. Conte.

Polly Longsworth is an Emily Dickinson scholar. While never an employee of Hampshire College, she was always vitally involved in its growth and success.