Wednesday, May 1, 2013
Four Hampshire College professors have been chosen as recipients of 2013 Whiting Foundation Fellowships: human biology professor Megan Dobro, photography professor S. Billie Mandle, art professor Sara Greenberger Rafferty, and entomology and ecology professor Brian Schultz.

The Marion and Jasper Whiting Foundation established the fellowships to enable present and prospective teachers to study abroad or at locations with which they're not closely associated.


Professor Dobro (pictured right) will use the grant to travel to Thailand and South Africa this summer with a goal of deepening her knowledge of the virus that causes AIDS.

"I studied the molecular biology of HIV during my PhD, but I'd like to learn more about the cultural aspects to bridge all of the important issues surrounding the epidemic," she said.

Dobro believes the research will positively impact her classes, and is developing a program with literature and gender studies professor Jill Lewis to take students abroad for a similar experience.

Professor Mandle's grant will allow her to travel to Trosly-Breuil, France, this summer to live at and photograph the largest and oldest L'Arche community, an international organization for those living with disabilities and others who share their lives with them. She will incorporate the experience into her fall semester course Community, Photography, Storytelling.

Professor Rafferty will travel to several cities in Europe this summer to explore the history and legacy of conceptual art as it relates to humor and pathos. Those studies will be incorporated into her theme-based courses in painting and art-making to reflect contemporary practices.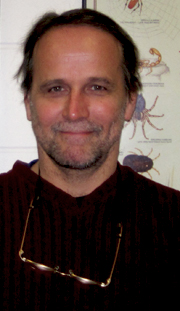 Professor Schultz (pictured right) plans to study push-pull cropping systems at the International Centre of Insect Physiology and Ecology in Nairobi, Kenya. He will incorporate what he learns into his agriculture courses and research conducted at the Hampshire College Farm Center.

Three of the Whiting Fellowship recipients, Dobro, Mandle, and Rafferty, are first-year professors at Hampshire. Four fellowships are the most Hampshire has received in one year from the Whiting Foundation.